Georgetown Jingle Raises Spirits and Funding for Pediatric Care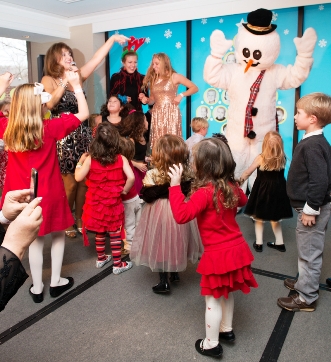 Sunday, Four Seasons Hotel Washington, DC and the deisgn community held the seventh annual Georgetown Jingle, a family-friendly holiday extravaganza, to benefit Medstar Georgetown University Hospital's pediatric oncology programs.
Seventeen holiday-themed trees and vignettes in the Hotel's lobby were on display and sold during a silent auction.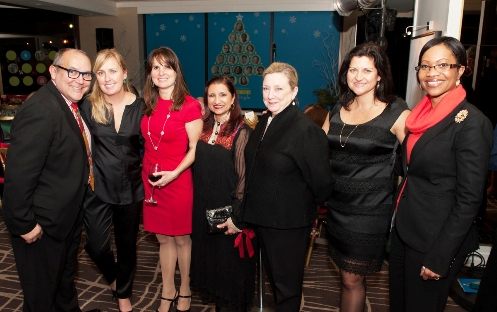 Arlington-based designer Michael Roberson was the 2012 design chair and selected, with her committee, the participating designers. This year, Sandi Hoffman of Sandi R. Hoffman Special Events created the majestic centre tree in the Hotel lobby. The theme for her centre tree is "The Shaker Abecedarious" based on the 1880s children's alphabet book A Peaceable Kingdom by Alice Provensen.
The other 2012 participating designers, with their themes were:
Barry Dixon Interiors (Barry Dixon) – Holiday Punch - a Taste of the Holidays
Sandra Meyers Interior Design (Sandra Meyers) – Bells Will Be Ringing
Darlene Solutions (Diane Darling) – Martini Tree
JDS Designs (David Herchik & Richard Looman) – Santa's Candy Land
Samantha Friedman Interior Design (Samantha Friedman) – Lego Tree
Chistopher Patric Interiors (Christopher Patrick & Kaitlyn Andrews-Rice) –Season's First Snow
Alter Urban, LLC (John Coplen) – Winter Wonderland Dollhouse
Case Design (Allie Mann) – Suesstacular
Patrick J. Baglino Jr. Interior Design (Patrick J. Baglino, Jr.) – Journey to Oz and Back
The Velvet Frog (Debbie Henry) – Believe
Dolci Gelati & JDS Designs, Inc. (Nick Beck Anastasia Kessler) – La Dolce Vida
Corcoran College of Art & Design ASID ( Kate Roberson & Whitney Osterhout) – Deconstructed Textile Tree
Barnes Vanze Architects (Miriam Dillon & Evelyn Smith) – Festival of Italian Torches
Darlene Molnar LLC & ETSK Design (Darlene Molnar & Sara Knowles) – Storybook Tree
The Queen Bee (Allison Priebe Brooks & Paul Baldwin) – 12 Days of Christmas
Housework Interiors (Dee Thornton) – Paint the Holidays
Children enjoyed sweet holiday treats provided by Georgetown Cupcake, PAUL Bakery and Dolci Gelati; and pictures with Santa, courtesy of TTR Sotheby's International Realty. Santa's "goodies" were cortesy of Sugar & Ice.
This year's Winter Wonderland was organized by six local designers that organized gingerbread decorating, edible necklaces, party hats and ornaments.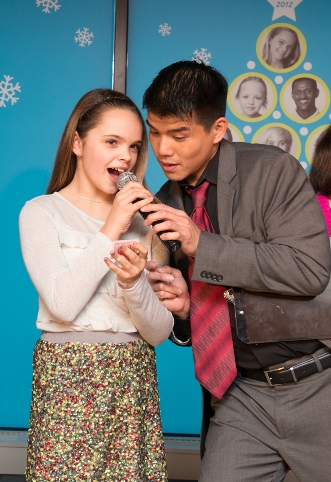 Guests enjoyed live entertainment by the singing sensation Pamela Stanley, star of the hit show Diva. Culinary creations and libations from top area chefs and restaurants includedBOURBON STEAK, Rouge 24, Proof, Bibiana Osteria Enoteca, Graffiata, The Source and more. In addition to these gourmet tastings, Four Seasons offered delectable tapas and passed hors d'oeuvres and an open bar courtesy of Blue Moon.
The Georgetown Jingle benefits the pediatric programs at Medstar Georgetown University Hospital. The funds raised by the 2011 Jingle have established a pediatric bone marrow transplant unit in collaboration with Duke University Hospital, funded unique patient rooms that inspire and support the healing process and funded the special initiatives for the Childhood Cancer Survivorship Program.
The funds raised by the 2012 Georgetown Jingle will continue to support the operational and training facilities for the Pediatric Bone Marrow Transplant Unit. The programs are directed by Dr. Aziza Shad, one of the region's most respected oncologists.
Over the past six years, the Georgetown Jingle has raised USD 1.5 million for these pediatric programs.