Georgetown in Harmony with City on Zoning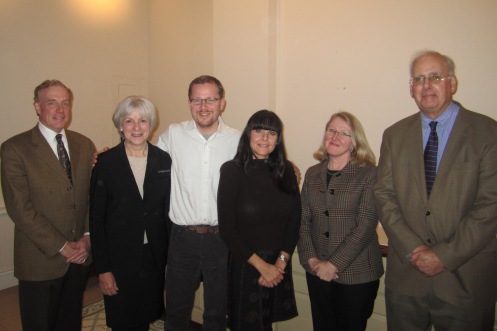 Zoning, i.e., the rules that govern the size, height and use of buildings, is a highly complex, legalistic governmental function that most people find boring. However, it is crucial in shaping the District's future as the population, commercial and institutional activites change. And for Georgetown, it is key to protecting its historic character as D.C.'s only National Historic Landmark District. In fact, zoning disputes can become highly visible and political, as was the recent battle over Georgetown University's ten-year campus plan.
The Office of Planning (OP) of the District Government is backing a total rewrite of these rules for the whole city and over the last few months, OP has held ward-level meeting to discuss its proposal. On Wednesday evening, the Citizens Association of Georgetown, with OP, held an open forum on how these new rules would be specifically applied to Georgetown.
The meeting was moderated by Pamla Moore, chair of CAG's Historic Preservation and Zoning Committee who was joined at the presentation table by Richard Hinds, legal advisor, Outerbridge Horsey, a local architect, Ken Archer and Jennifer Steingasser from OP. Their discussion, along with audience questions, while often technical, nonetheless clearly showed that Georgetown was in the forefront of DC neighborhoods by asking for, and largely getting from OP, a Georgetown-specific, customized set of zoning rules as a subset of the citywide rewrite.
The Georgetown-specific discussion dealt with restrictions on height (to limit it to 35 feet, as it generally is now), lot occupancy (how much of a lot can be built on while still protecting open, green space), roof structures (particularly ones that protrude inharmoniously with the rest of the building), how many and where new dwelling units could be added to existing buildings (i.e., "accessory dwelling units"), the future of non-conforming uses and structures (they would be grandfathered) and how institutional, alcohol-serving, parking lots, churches, health care centersand other non-residential uses would be permitted.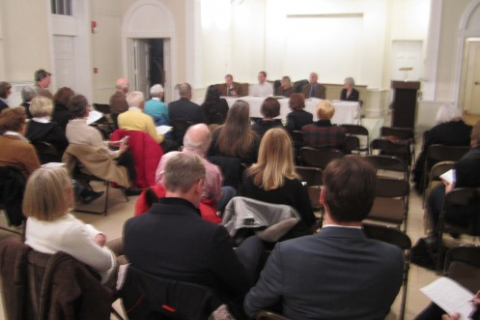 One potential area of disagreement is where and how many new retail stores could be added in residential areas. CAG wants no new corner stores and no more than one every block-and-a-half, while OP would allow up to four stores per block, including in mid-block buildings if the building was ever commercially used.
Nevertheless, Georgetown has set the stage for other DC neighborhoods, such as Dupont Circle and Mt. Pleasant which were represented at the meeting, to propose customized zoning for their communities.
Members of the audience, including from Advisory Neighborhood Commission 2E, were full of praise for the panel. Ron Lewis, the ANC chair, who played a key role in resolving the GU campus plan controversey, said: "I commend all of you … for careful and hard work for digging into zoning which is really important to the life of this community." He announced that the ANC will take up this matter on their next meeting on March 4.
Tom Birch, another commissioner, added. "CAG has done the heavy lifting and we get to pass as resolution."
OP's Steingasser said her office hopes to finish its work in time to submit recommendations to the DC Zoning Commission by April-May. The Commission will then hold its own hearings before taking any action on new rules.
Prior to Wednesday's meeting, the Georgetown Business Association released the following statment to The Georgetown Dish in response to the commercial recommendations outlined in CAG's zoning proposal posted on their website: "The GBA Board has disagreed with those specific proposals and a joint CAG-business group is working on alternatives and hopes to reach agreement."