Georgetown gets new communications pro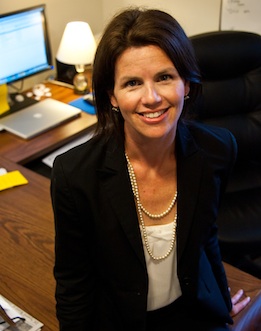 The Georgetown Dish is a venue for the voices of Georgetown, one of the best-known neighborhoods in the world. Starting today, we'll bring you a regular interview column featuring the personalities of Georgetown University. We begin with Stacy Kerr, Georgetown's new Assistant Vice President of Communications. Stacy lives a stone's throw away in the Palisades, but as she indicates below, she delights in her home away from home in this neighborhood. Communications pro that she is, she can be found on her Twitter feed at twitter.com/stacykerr. Welcome to the neighborhood, Stacy, and welcome to The Georgetown Dish.
Where did you grow up and what brings you to Georgetown?
I am from Ypsilanti, Michigan, right next to Ann Arbor. So I grew up taking advantage of all of the benefits of living near a world class university. We went to shows, political events, sporting events. I saw Bill Clinton speak very late in the campaign in 1992, on the Michigan campus. We thrived on the energy that having college students around brings to a community, and I feel that same thing at Georgetown. Georgetown is doing amazing things - from groundbreaking research to hosting national and international speakers. They are really making a difference in the world, from right here in Washington, D.C. And I admire their commitment to their core values of service and leadership. It's an honor for me to be here to help Georgetown share those values and tell their story.
Tell us about your career...
I came to Georgetown after a decade on Capitol Hill, where I had the once-in-a-lifetime experience of working for Speaker of the House Nancy Pelosi (a Georgetown resident!). Georgetown is a special place for the Pelosi's, and through them I met some wonderful friends, now colleagues, at Georgetown. Working closely with Speaker Pelosi, I saw first hand how deeply committed she is to her core values. I see that same commitment to values at Georgetown. So it feels very natural and comfortable for me to be here. What do you like about living in the Palisades?
We adore our neighbors. My husband and I are on our second house in Palisades – we moved around the corner. I am from the midwest, and the Palisades feels like a small town. We joke that taking the trash out takes 15 minutes, because there are always neighbors on the street talking about current events, homework, who's doing what. I love that the Palisades is a collection of neighbors all doing really interesting work. On my block are lawyers, doctors, a teacher, World Bank employees, non profit advocates. It's a reflection of the city as a whole. I love that. And I love the proximity to Georgetown. We use Georgetown like our downtown. How do you get to work?
I'm a big fan of the D6 and I like to ride the bus or walk as much as possible. Like so many working parents, I am often rushing home to my kids, so there are days I just have to drive. My son loves to take the D6 into Georgetown, so we use that on the weekends as well. What do you like best about Georgetown?
I love the history. Our perfect Saturday is a walk down the canal, up through the neighborhood, and brunch at Peacock Café. We are also regulars at Volta Park. My son plays tball every week at Volta or Rose Park and we choose a new place for dinner after every game. When he has his choice, its Five Guys. I am trying to turn my boys onto the glory of Tacklebox fries. What do you like best about the Georgetown campus?
The energy of the students. I joke that Congress should be set up like a college campus. There is so much value in walking around outside, feeling the energy of students and educators, seeing how a place works. And I love how close it is to my house. Do the students remind you of your college classmates? How has the experience changed, do you think?
Well, I went to a women's college, so that is a big difference. And I am certain I didn't look this young when I was in college! Georgetown students are amazingly global in how they view the world. I am impressed by their strong commitment to being good neighbors and responsible community members – locally and globally. I really admire them for that, and I hope that I can learn from them while I am here. The students here have a very clear understanding that the world they live in is much bigger than the campus, and that feeling wasn't as overwhelming when I was a student. One big difference is the use of social media. The first time I ever emailed was in college, and I didn't use a cell phone until after college. Students are leading the way in how to be effective communicators. That's really exciting and something I hope we can do more of at Georgetown. What is the last item you purchased in Georgetown?
An ipod for my 5-year-old, apples at the Georgetown University Farmers Market on Wednesday and a haircut at Violet salon. If you could change one thing about Georgetown, what would it be?
More kid friendly restaurants. And the return of Furins. That was really sad for my family. We loved the pancakes and the lovely people who worked there.