Georgetown Garden Tour May 11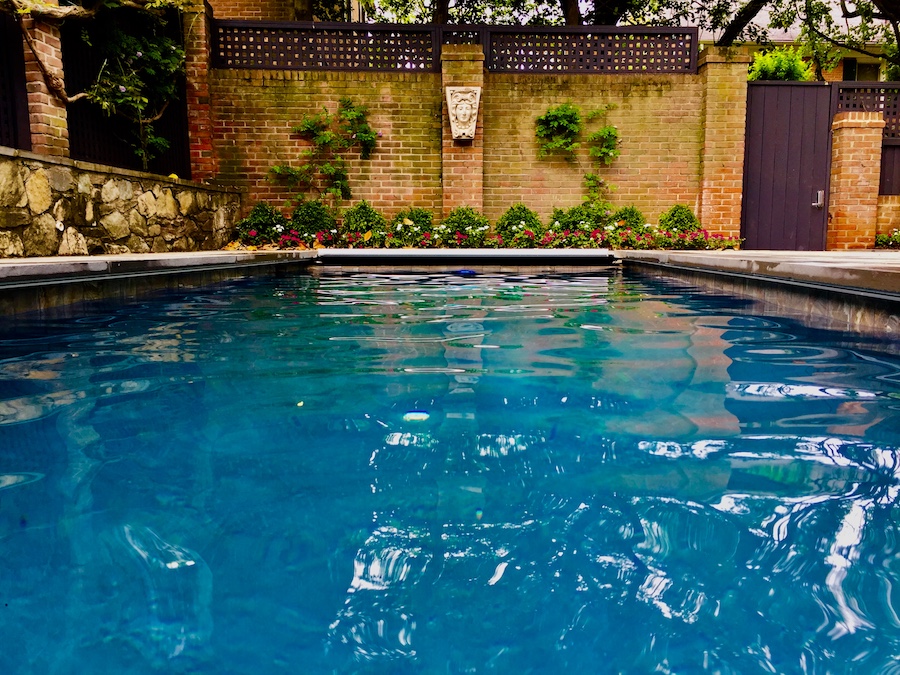 The 2019 Georgetown Garden Tour is on Saturday, May 11 from 10:00 am to 5:00 pm.
Tickets are $45 and available on the website and on the day of the tour at Christ Church, 3116 O Street in Georgetown.
Refreshments for ticket holders will be served from 2 pm to 4 pm at Christ Church.
The tour is sponsored by the Georgetown Garden Club to benefit local organizations with emphasis on the preservation and maintenance of public gardens, parks and green spaces. Past beneficiaries have included Book Hill Park, Tudor Place gardens, Trees for Georgetown, the rose garden at Montrose Park, Rose Park, Volta Park Habitat Garden, Dumbarton Oaks Park Conservancy and the Georgetown Waterfront Park.
This year's tour takes the visitor through seven beautiful and interesting hidden Georgetown gardens. Join the self-guided walking tour and bring your friends!
Garden 1
This truly grand Georgetown garden is not to be missed. Designed by Jane MacLeish in 1991, the garden has three distinct areas: the upper area bordered by a hornbeam hedge lends itself to large gatherings, with a lovely bubbling horse trough fountain; the sunny middle garden has a dramatic pergola over the dining area supporting both wisteria and white climbing roses and is full of colorful perennials, annuals, pots and herbs; the lower garden is a peaceful woodland garden shaded by large hollies, with stone paths and a seating area.
Garden 2
This large and dramatic art lovers garden was created in 2004. It includes a long lap pool that also serves as a reflecting pool, along with a walled courtyard and beautiful plantings. The design is a series of garden rooms which encourage reflection and relaxation, facilitate the hosting of social events and, most importantly, serve as a place to display the owners' large collection of contemporary outdoor sculpture.
Garden 3
This newly renovated garden sits above 31st Street and looks over to Tudor Place, which provides a lovely example of a "borrowed landscape". The garden has a large modern fountain and gathering area around a dramatic fire pit, along with an eclectic collection of dwarf evergreen shrubs.
Garden 4
This large meandering property fronts on Avon Lane, and slopes down in the back towards a tennis court and Q Street. The garden rooms, patios, and places to sit or dine wrap around three sides of the house. Just when you think you have seen them all, another one is revealed. The property has beautiful plantings and lovely large specimen trees throughout.
Garden 5
This recently renovated garden by Marion Oxford Dearth is home to a young family and is designed for outdoor entertaining. Modern, it has minimal plantings, beautiful hardscape and an interesting pool layout. The entrance to the garden is off of an interior courtyard accessible from the wide public stairs on 31st Street.
Garden 6
The entrance to this charming Japanese inspired garden is off of an interior courtyard accessible from 31st Street, so it feels very quiet and tucked away. Designed by Jane MacLeish, the focus of this garden is a lovely tiered fountain and reflecting pool, with stepping stones across it to reach the dining area.
*/
Garden 7
The entrance to this Blake Dunlevy designed garden is through a charming arched door. The garden has been recently renovated, with an eye for beautiful details and interesting plantings. Several lovely garden rooms are organized along a central path. Garden highlights include an old sculptural pine tree and a large dramatic fountain.