Georgetown Farmers Market Opens May 7th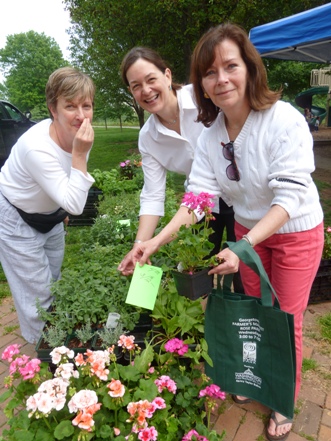 The Friends of Rose Park, in cooperation with the DC Department of Parks and Recreation, is sponsoring the Georgetown Farmers Market in Rose Park for its 12th season. The opening day of the Georgetown Farmers Market is Wednesday, May 7th.
The market is open, rain or shine, every Wednesday until Halloween from 3:00 p.m. until 7:00 p.m. near the corner of O Street and 26th. The location will be modified later in the season to accommodate the planned renovation of the playgrounds in Rose Park.
The Georgetown Farmers Market is excited to welcome a wonderful variety of newcomers to the market:
Welcoming back our regulars from last year:
Anchor Nursery- Fresh vegetables, fresh cut flowers, plants
Quaker Valley Orchards - Berries, honey, apples, peaches, greens
Groff's Content Farm- Fresh Eggs, cage-free chicken, Berkshire pork and sausage, grass-fed beef, pet treats, and farm tallow soap bars
All Things Olive -Specialty California EEVO, Infused and Aged Vinegars, Gourmet Condiments, International Salts
Bread House- Breads, Rolls, Muffins, Croissants, Scones, and Specialty Items
And new this season:
I-Heart-U- Gluten-free Baked Goods including breads, muffins, desserts
Divine Foods- Crepes made fresh with savory and sweet fillings with seasonal local products
Amore Gelato- Fresh scooped gelato in many flavor combinations with seasonal local fruit
Happy Hens Barnyard- Fresh pastured chicken and duck eggs, poultry, seafood and fish from Crisfield, MD. Homemade marmalade, and pickled eggs, fresh crab cakes, and oyster stew
DC Dills - Fresh pickle sold from barrels and locally produced in Howard County MD
Karalaca Coffee– Single-sourced in Columbia and roasted in VA. Whole beans and brewed
Wadel's Dairy- Organic Raw Milk Cow Cheeses including Cave-Aged, Hickory Smoked, Habanero, Garlic-Herb, and Mild Cheddar Cheeses
Spriggs Delight Artisan Goat Cheese- Farmstead locally produced cheeses, fresh, feta, camembert, and goat milk special fudge
(And in Alternating Weeks)
Dinner Is Ready!- Prepared Meals and Soups using local and very fine ingredients
Pure Joy Foods- Organic and locally sourced ingredients for baby food in three flavors