Georgetown family business: Wedding Creations and Anthony's Tuxedos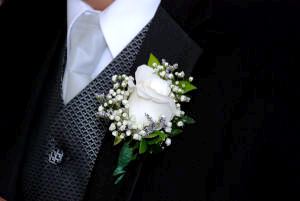 A family business started over 32 years ago on a charming side street in Georgetown on the second floor of their current location, Ed and Gerri Solomon opened Wedding Creations to rave reviews by The Washington Star. They praised the boutique for creating the concept of bridesmaids dress rentals. That's right; 32 years ago Wedding Creations rented bridesmaids dresses. Evolving from bridesmaids dress rentals to selling wedding gowns and bridesmaids dresses and eventually moving to the current location on the first floor has kept their little store in business all these years.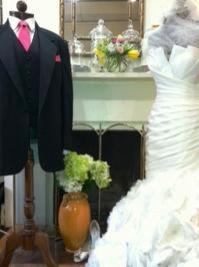 About 15 years ago they introduced a tuxedo business. Some may ask why they chose the name, Anthony's Tuxedos and not Ed's Tuxedos. Solomon family members on the west coast also operated a tuxedo shop. The two brother-in-laws flipped for it and decided on Anthony's Tuxedos. (Well, not really but doesn't Anthony's sound better than Ed's?!) Ed has gotten used to being called Anthony, Antonio, and Tony over the years. Monday through Saturday Ed (or as some call him Anthony), can be found sitting behind the antique desk near the fireplace chatting to customers, neighbors, local politicians, or police officers. He has helped countless grooms, groomsmen, and party-goers find the perfect tuxedo and accessories.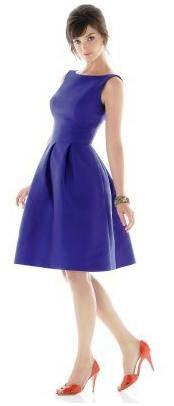 And yes, it is true; they can provide a tuxedo rental in one hour, with over 400 tuxedos stocked in the store. Brides can rest assured that husbands-to-be without a tux will be expertly and quickly fitted by Ed.
With her eye for fashion and determination to make sure everyone walks out of the store with the perfect dress, Hope (Ed and Gerri's daughter) is the latest family member to join Wedding Creations. As she says, "When you are raised in a family and passionate about the community you live in, it is an easy transition from helping Mom and Dad around the store to taking a more prominent role."
By expanding the shoe inventory, introducing some fabulous finds to help accessorize the bride, and recommending ways to help coordinate .. from groom and groomsmen to the bride and bridesmaids, Hope is the bridal party's most valuable planning resource.
In the market for a dress, tuxedo, accessories, or good conversation? The Solomon family at Wedding Creations and Anthony's Tuxedos looks forward to meeting you.
Wedding Creations and Anthony's Tuxedos is at 3237 P Street. Tel: 202.333.5762