Georgetown dog sniffs out global racket in fakes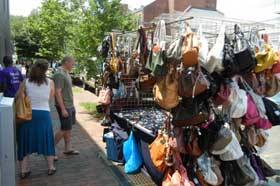 A beagle named Bagel and its courageous Georgetown owner have sniffed out a possible local crime scene with global implications. Genève Bergeron was walking Bagel recently when a handbag vendor who usually occupies the spot near Prospect and Wisconsin berated her for allowing Bagel to relieve himself in a tree box. The vendor said he "would 'scare' me away if he needed to…because he 'made a lot more money' than I did," Bergeron told The Georgetown Dish. The vendor continued to yell at the young woman, asking her "how much money I make and saying I was 'disgusting' as he walked toward me" in an intimidating fashion.
Vendors along Prospect Street and Wisconsin Ave. have developed a lucrative trade in knock-off handbags labeled Chanel, Coach and Kate Spade, among other brands. It's part of a global racket that experts say costs $600 billion a year to manufacturers as well as strained law enforcement agencies.
Bergeron wrote letters to Councilmember Jack Evans and and ANC Commissioner Jeff Jones. She wants action to "stop this individual from harassing passers-by" and from the D.C. Department of Consumer and Regulatory Affairs to investigate the sale of apparently counterfeit goods in Georgetown.
INTERPOL and Canada's Royal Canadian Mounted Police have publicized major arrests of global trafficking in counterfeit goods, but brands like Gucci, Colgate-Palmolive, Stella McCartney and L'Oreal have recently filed lawsuits to try to stem a growing tide of fakes that continue to wash up in Georgetown and worldwide.
Jones promised that the ANC "will take a look at the situation and get to the bottom of it." The vendor stand was in operation on Monday and the person in charge said he was just filling in for the owner and knew nothing of the episode.