The Georgetown Dish meets the next First Lady?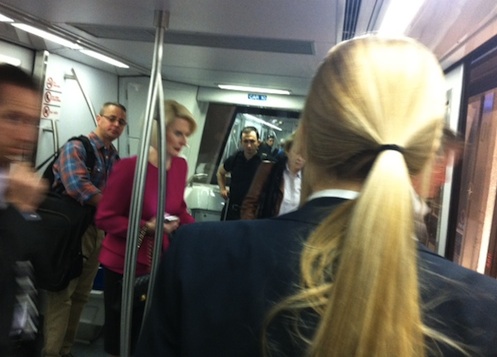 She looks almost too perfect to be real – not a hair out of place, clothes that fit like a glove, with some, ahem, major Tiffany sparkle on her hand, and a rolling carry-on and chic purse that match.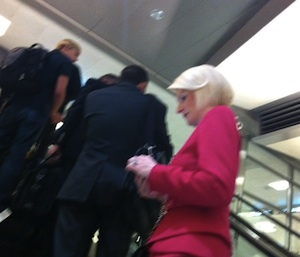 But the woman who may be America's next First Lady is very real – zipping to a commuter gate at Dulles sans Secret Service as she taps on her iPhone up the escalator, as she walks, even as the shuttle train jolts to a stop.
With her husband hovering near the top of the Republican primary polls, Callista Gingrich has to adroitly walk, chew gum, text and look great at the same time.
"I'm on my way to Charleston," she croons, warmly answering a stranger's greeting. "Newt's there already. We have a town hall meeting," she says, one eyebrow creeping a little higher. With one look, she's got you. You're in on it.
Her husband may be a brash brainiac, but Callista Gingrich more than soothes the scrapes with a salve of warmth and charm.
"You look perfectly put together, all set for the town hall," says the stranger.
A deadpan look. "Some days are better than others," she says.