Georgetown Debating 'One-Side-Of-The-Street' Parking Rule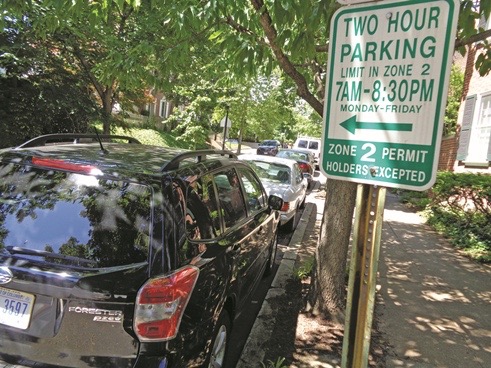 By Grace Bird
Current Staff Writer
As Georgetown grapples with ongoing parking pressures, the area's residential and business communities are squaring off over the idea of reserving more spaces for locals.Several members of Advisory Neighborhood Commission 2E (Georgetown, Burleith) want to ask the city for Enhanced Residential Permit Parking, an arrangement that reserves one side of each residential street for vehicles with Zone 2 parking permits during certain hours. The other side of the street would continue to allow vehicles without that pass to park for up to two hours, but the change would add fresh restrictions to about 2,000 parking spaces.Proponents said such a change would make it easier for residents to find spaces near their homes. But at ANC 2E's meeting on Monday, droves of business owners voiced outrage at the idea — which they said would devastate the shops and restaurants that rely on customers who drive to the neighborhood.Billy Martin, owner of Martin's Tavern at 1264 Wisconsin Ave. NW, said Georgetown's limited transit access makes street parking essential for local businesses."We all need to work together," Martin said. "I have people tell me they won't come to Georgetown because of parking."The D.C. Department of Transportation has worked with Georgetown for years on the idea of addressing its parking pressures, where meetings aired a host of possible solutions. These include the "Enhanced RPP" restrictions that ANC 2E discussed Monday — which would mirror the system employed in various neighborhoods with high parking demand, including Logan Circle and Sheridan-Kalorama.
However, the process for making any change remains in its infancy. Bowing to public requests for more time to consider the issue after initially scheduling a vote for this week, ANC 2E hasn't even taken a position on whether to petition the D.C. Transportation Department for new parking rules. Even at that point, the agency would need to study the issue, put out a recommendation and then solicit further public comment.
Monday's meeting also aired a lack of consensus among the ANC 2E members. Commissioner Ed Solomon — a Burleith resident who owns a business in Georgetown — reiterated his long-standing objections and said ANC 2E previously voted against such a scheme. However, the commission saw significant turnover after last year's elections, and the latest proposal came from two newly elected members: Jim Wilcox and chair Joe Gibbons.
Wilcox cited a Department of Transportation study finding that only 1 to 2 percent of residents can regularly park on their own block in Georgetown.
"We felt that it was an important objective for the residential community to be able to park somewhere near where you live," Wilcox said. "I'm not saying this is perfect, and we are going to consider alternatives."
The Georgetown Business Improvement District, which strongly opposes Enhanced Residential Permit Parking restrictions, endorsed other options.
BID president Joe Sternlieb said a clear solution would be to allow only vehicles registered within ANC 2E to receive special parking privileges in Georgetown. Currently, anyone eligible for a Zone 2 permit is treated equally as a "resident" under the neighborhood's parking restrictions. (The same would apply under Enhanced RPP.) However, the Transportation Department declined to shrink parking zones while recently overhauling its Residential Parking Permit regulations.
The BID also suggests increased parking enforcement; extending the hours of existing two-hour parking limits; and using the ParkMobile app to collect parking fees from vehicles without Zone 2 permits.
However, a statement by the BID's board states that the one-side-the-street restrictions would drive out businesses, in turn hurting property values and diminishing Georgetown's "social health."
The Citizens Association of Georgetown also has concerns, saying that parking restrictions should reflect the widely varying needs of different local streets.
ANC 2E is scheduled to continue its parking debate early next year.
This article appears in the Dec. 6 issue of The Georgetown Current newspaper.