Georgetown Custom Zone at Issue as Some Advocates Elsewhere Seek Same Program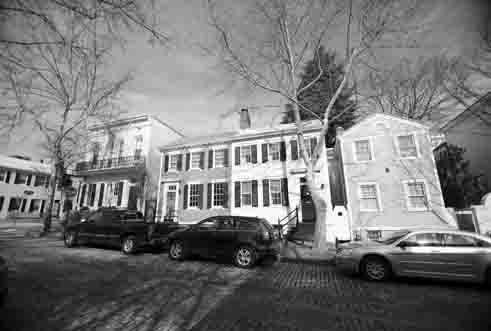 By Brady HoltCurrent Staff Writer
Throughout the District, about two dozen neighborhoods feature specialized land-use regulations, tailored to provide a particular protection or encourage a particular activity. Examples of provisions in these "overlays" include stricter size requirements for new houses, or exceptions to allow taller heights for certain buildings like hotels.
When the Citizens Association of Georgetown asked for such an overlay about five years ago, the Office of Planning turned the group down. The agency was developing a procedure to replace the overlay as part of a broader zoning regulation rewrite, so planners agreed to let Georgetown serve as a guinea pig for the new "customized zone."
This decision has sparked complaints from some other neighborhoods, where residents unhappy with proposed zoning changes are clamoring for their own special protections.
"This zoning rewrite process appears to be a tale of two cities. It reeks of divisiveness and disenfranchisement," Kathy Henderson, chair of the Trinidad advisory neighborhood commission in Northeast, testified at a Jan. 30 Zoning Commission hearing.
Georgetown, Henderson said, had gotten substantial help from the Planning Office in understanding the complex rewrite — and her neighborhood did not. "We have the same rights in this city that everyone else has, and we want to participate in a meaningful way," she said.
The Office of Planning and the Citizens Association of Georgetown have rebuffed the idea that one affluent neighborhood got special treatment. They have said that Georgetown has specific needs as a federally protected historic district, that residents promised to do the legwork to develop their zone, and that the neighborhood had already requested an overlay.
Accordingly, Georgetown was a logical fit to serve as a "prototype" for the customized zone process, Jennifer Steingasser at the Planning Office said in an interview. It wouldn't make sense to run a pilot project simultaneously throughout the city, she said.
"We wouldn't have multiple prototypes," she said. "We didn't want to waste other communities' time as they look at this."
If the Zoning Commission approves the customized zoning process as proposed, then other neighborhoods can come forward to work with the Office of Planning to develop specialized regulations.
In drafting its customized zone, the Citizens Association of Georgetown sought to preserve the status quo of neighborhood's historic fabric. To bolster its proposal, the group documented existing conditions, held public meetings to establish consensus, and emphasized the community's preservation needs.
The customized zone includes shorter height limits, stricter standards for accessory buildings and apartments associated with single-family homes, greater required conformity with neighboring homes' front setbacks, and more controls before commercial establishments can open in residential areas.
"Historic preservation is the primary goal in Georgetown, as opposed to other neighborhoods where encouraging greater density and the ability to expand houses ... were very much to be desired," Richard Hines, attorney for the citizens association, said in an interview.
Residents in other parts of the city, though, have called for some of the same protections for some of the same reasons. Steingasser said that once the customized zone procedure is in place, they too can participate.
She cautioned, though, that there must be more basis for a zoning change than popular support — the District's Comprehensive Plan, which is not currently being revised, is what establishes the vision for different areas.
"Often when people are concerned about zoning, what they really need to look at is the land use and the planning," Steingasser said. "Zoning just implements that."
But community consensus would still be necessary for any customized zone, she said, as Georgetown managed to achieve. When you change zoning, "you're often times granting or modifying property rights, and that has to be done very carefully," said Steingasser.
In Georgetown, the changes drew unanimous support from the neighborhood commission, which testified at a Nov. 6 Zoning Commission meeting. "The customized zone preserves the best of current zoning while bringing it up to date," neighborhood commission chair Ron Lewis said in an interview.
The zoning rewrite proposal also reclassifies existing overlays as customized zones — a change Steingasser says makes it easier to identify which rules apply to a particular property without changing any of the rules the overlay put in place. Community leaders in some areas have argued that the overlays work well in their current form and should not be modified as part of the rewrite.
This article appears in the Feb. 19 issue of The Georgetown Current newspaper.