Georgetown chaplain combines ministry with milkshakes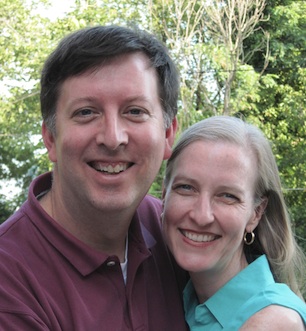 In our ongoing series of interviews with Georgetown University neighbors, The Georgetown Dish meets Michelle Siemietkowski, a Chaplain-in-Residence to off-campus students and the Director of Residential Ministry. She lives on 36th Street across from Magis Row with her husband, Michael Gerber, and their daughter.
Michelle has a master's degree in Pastoral Studies from the Washington Theological Union and a master's degree in Religious Studies from Georgetown University. She did her undergraduate studies in English at Georgetown (BA 1992) and has been working on the Hilltop since then.
What does the Chaplain-in-Residence for off-campus students do?
I serve our off-campus students through outreach, programming and pastoral counseling. My outreach includes weekly programs, weekly emails, an open door in my office on campus, and individualized care.
I offer at least one program every week called "Milkshakes with Michelle," which gives the students a chance to get to know me in a relaxed setting. Once they know me and feel comfortable with me, they feel more free to meet with me for further, often deeper, conversations and counseling. I also offer educational and spiritual programs, such as "The significance of a Jesuit education," retreats, and praying the Examen, a prayer of St. Ignatius.
What are the kinds of challenges facing students that you see?
Most of my students are seniors discerning what to do after graduation, so they often talk to me about job applications, graduate schools, and post-graduate service opportunities, such as Jesuit Volunteer Corps, the Peace Corps and Teach for America. Some challenges our students face also include relationship struggles, loss, and questions of faith, especially in the face of personal and/or global tragedies.
How did you get interested in this kind of work? How did your major in English lead to your current work? I grew up in Cherry Hill, N.J. and came to Georgetown with the desire to become a writer, so I majored in English. While I loved my major, I soon realized my favorite courses were theology courses, which I took "for fun." That love for theology led to graduate degrees in religious studies and pastoral studies. I was in graduate school part-time for twelve years while working full-time for Georgetown. During that time of education and formation, I sensed a growing calling towards ministry with college-aged men and women. And looking back at my years in college, I remember well going on the Agape weekend retreat during my senior year. I knew then that I would love to work with college students some day. So the seeds were planted in many ways for me to work in Campus Ministry. Here I am, twenty years later, doing exactly the kind of work I had dreamed to do. How have you addressed the strains between students and non-student residents in the neighborhoods near campus?
As a Georgetown University chaplain living off-campus, I strive to play a positive role for students and non-students in the neighborhood, and I try to recognize and honor the needs of both. Whether you're my neighbor next door, or students living across the street, I cherish opportunities to meet you, talk with you and see how you're doing. And as a graduate of Georgetown who now works for the University, I try to embody what I've learned from the Jesuits, namely cura personalis - care for the person in his/her particular needs.
What are the most popular programs in the Campus Ministry and why? Our vibrant worship services and engaging retreats are very popular, especially Escape and Agape, primarily because they offer students a chance to reflect on their lives in fun, relaxed settings. Faith formation programs also are popular, for they help our students learn about their own faith traditions as well as others'. We also offer many service and immersion opportunities - faith that does justice at its best. And finally, our Chaplains and Jesuits-in-Residence offer weekly open houses with homemade cookies and such, and anywhere from 30-150 students will stop by any given night for a fun study-break. Those kinds of programs sow seeds for deeper relationships between students and chaplains. Do you think religion is a generally positive force in our global society? Are their any downsides?
Yes, I do believe religion can be a positive force in our global society. In fact, I've experienced Georgetown University in particular to be a place where interreligious understanding, a main tenet of Jesuit education, thrives. Our students at Georgetown grow stronger in their own faith traditions not just because they see many positive examples of their own traditions here, but also because they have so many opportunities at Georgetown to learn from traditions other than their own. Muslim students call the Jesuits, "our priests," and Christian and Jewish students call Imam Yahya Hendi, "our Imam." That's a wonderful and unique aspect of Georgetown. In a world where religion can be used to divide people, Georgetown University succeeds in bringing people of different faiths together through a myriad of interreligious services, courses, and programs. It's a privilege and joy to work and live here.
What are your favorite haunts in Georgetown?
My family's favorites spots in Georgetown are Thomas Sweet, Barnes & Noble, and Georgetown Park at Christmastime. My husband and I also love Cafe La Ruche for its delicious French onion soup, bread and brie.