Georgetown Cat Cafe Hits Start-Up Goal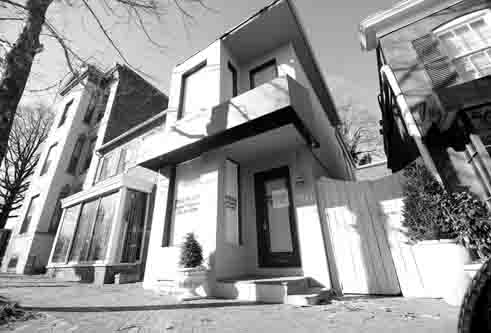 By Brady HoltCurrent Staff Writer
A chance to play with someone else's cats for a few minutes may sound more like pet-sitting than a lucrative business venture.
But a planned "cat cafe" in Georgetown seems to have tapped into clear enthusiasm for this activity, collecting over $25,000 in Kickstarter donations from more than 400 supporters in just a week. In fact, Crumbs & Whiskers hit its $15,000 target just one day after the online donation campaign began on March 8.
"Honestly, I'm amazed and really excited and insanely grateful and shocked by how quickly we met our fundraising goal," cafe founder Kanchan Singh wrote in an email to The Current. "That was pretty crazy. And also super awesome."
Singh's concept for Crumbs & Whiskers follows an approximate business model that has popped up increasingly around the world but remains unfamiliar to most Americans. She has partnered with the Washington Humane Society to keep up to 20 cats, which will be available for adoption. And customers will pay a yet-undetermined cover fee to enter and play with the cats, enjoy a relaxed feline-filled ambiance and consume complimentary refreshments prepared off-site.
Singh hopes to open this summer at 3211 O St., but she still needs to sign her lease and receive various approvals from the D.C. government, all of which she hopes will go through this month. The Board of Zoning Adjustment will hold a hearing on Tuesday to determine whether the site is suitable for animal boarding, and she needs to "finalize the food model" with the Department of Health.
But if the donations are any clue, there's no shortage of interest in the Crumbs & Whiskers plan. In addition to raising over $25,600 as of yesterday afternoon, Singh said a launch party for the Kickstarter campaign filled the entire upstairs of the downtown Penn Social sports bar.
"The money is going towards building the cat cafe — basically creating a place that's really comfortable for both people as well as cats," Singh wrote.
Funds will also cover modest gifts to donors and the 10 percent fee charged by Kickstarter. As of yesterday, more than 430 people had donated. (Singh will cancel the donations if the city ends up nixing the cat cafe concept.)
The Georgetown advisory neighborhood commission is also enthusiastic, having unanimously supported the zoning application for this "unique and fun cafe experience."
"There are a lot of animals that are euthanized every year because no one can find homes for them," commissioner Jeff Jones said at the March 2 meeting. "This is a much better life for them."
This article appears in the March 18 issue of The Georgetown Current newspaper.