Georgetown cancels controversial loop road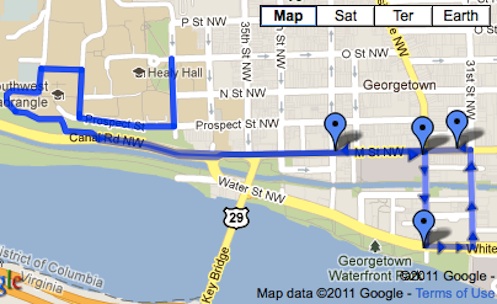 Responding to objections of many nearby residents and Ward 3 Councilmember Mary Cheh, Georgetown University announced on Monday that it was canceling its planned "loop road" bus turnaround at the west end of campus adjacent to National Park Service land. The road had become one of the main points of contention between neighbors, especially in Foxhall, and the University as debate proceed over the University's proposed 10-year campus plan.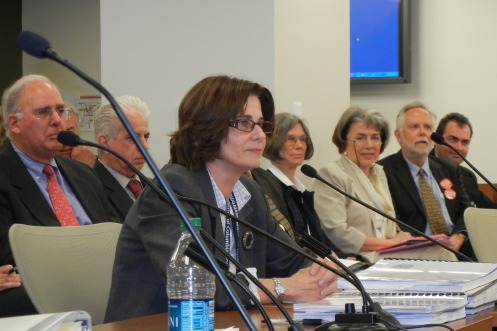 "We heard the concerns of our neighbors," said Stacy Kerr, the University's new Assistant Vice President of Communications. "We take them very seriously, and we're making improvements that respond to those concerns."
The University also rolled out a series of new measures designed to reduce noise and trash in surrounding neighborhoods. Its new M Street shuttle bus, which ferries students from the campus to Georgetown's nightlife via Canal Road, has transported over 3200 students since the service started at the beginning of the school year, Kerr said. The shuttle service is designed to reduce late-night noise near Campus by revelers walking to and from Georgetown nightlife.
Kerr also announced a twice-daily trash patrol service the University is underwriting in West Georgetown and Burlieth. The patrol disposed of 38 tons of trash since the service began at the beginning of the school year. "We're picking anything up that is not in cans," Kerr said, adding, "the University is paying for this." In addition, she said, police presence has been increased to seven officers on Thursday, Friday and Saturday nights between 11:00 pm and 3:00 am, paid for by the University.
Neighbors can report trash to be picked up by calling (202) 687-3432. Complaints about security and noise should go to Georgetown's SNAP (Student Neighborhood Assistance Patrols) at (202) 687-8413, Kerr said.
'This is big news and this is good news," Cheh said, referring to the loop road change. "I'm delighted." She had testified against the road before the D.C. Zoning Commission in May and visited the area with neighbors last winter. "It's good to look for alternatives in which one side gets what it wants and the community gets what it needs," she said. In her previous testimony, Cheh had pointed to major environmental problems with the original design, including the large buses and their fumes, intrusive lighting and "rumbling of the vehicles day and night."
"It's positive," said ANC Commissioner Bill Starrels, responding to the changes. "We'd like to see GPS put into the bus system. That way you can monitor where the busses are and whether they are adhering to the assigned routes."