Georgetown brick throwing damages cars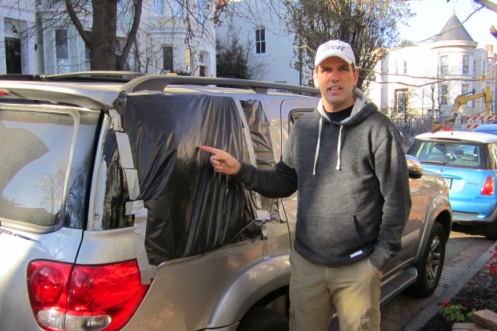 Shortly after midnight last Thursday, John Bradshaw and wife Angie were startled by loud smashing sounds outside their house in the 1400 block of 33rdStreet. "What was that noise," she said, as he rushed outside. Joining his neighbors, John Bradshaw found a young man standing there with the rear, side window of the family car broken out and a badly cracked windshield on the next car. Apparently a brick from the piles on the sidewalk for the O and P Street road project was the tempting weapon of choice.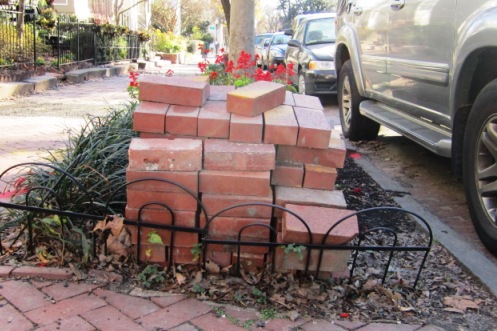 When asked what was going on, the young man said, "that was something on the next block," and took off east towards Wisconsin Avenue. While Angie Bradshaw called the police, John Bradshaw chased the apparently quite inebriated young man and caught up with him in the CVS. John Bradshaw flagged down two police officers parked in a squad car outside the CVS. They told John Bradshaw it "wasn't in our jurisdiction" and drove off on Wisconsin Avenue.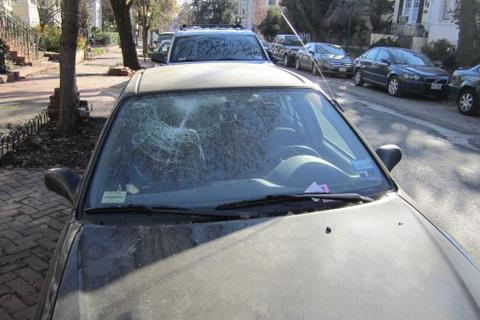 At that point, John Bradshaw said: "I grabbed him by the collar and dragged him back" to 33rd Street, as the young man asked, "Is there any way we can settle this without the police being involved?"
Another MPD squad car responded to the scene of the incident. These two officers took a statement from John Bradshaw and handcuffed the young man and took him into custody. He was identified as a Georgetown University student, leading to a response also from the GU police.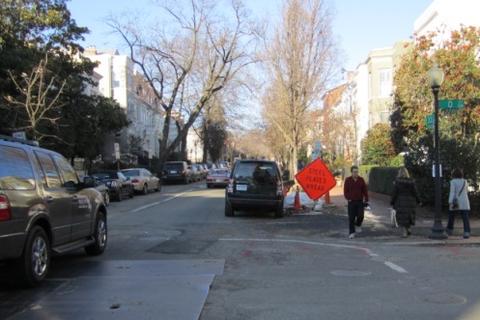 John Bradshaw is much impressed by the response by the two MPD officers who answered his wife's call and came to 33 street, by Councilmember Jack Evans' office and by the GU police. In addition, the dean of students called to apologize. "She was very, very nice, very apologetic," he said. However, "honestly, it's not her responsibility to apologize because he [the student] is an adult."
The Bradshaws have lived in Georgetown since 1999 and John is aware of the controversy over the GU campus plan. Despite the incident, he says, "I'm more on the side of the side of the university," pointing to the convenient GU athletic and other facilities and activities they take advantage of and the "exceedingly nice and wonderful" GU student-babysitters they use for their three kids.