Georgetown Breaks Ground on Thompson Athletics Center
Standing on the site where a building will be built bearing his name, former Georgetown University Head Men's Basketball Coach John Thompson Jr. was joined by family, friends and many former players as ground was officially broken for the John R. Thompson Intercollegiate Athletics Center on Friday morning on the Hilltop.
The Thompson Center is expected to be completed in August 2016. The $62 million project will be completely supported through philanthropy. The four-story, 144,000-square-foot Thompson Center will be constructed adjacent to McDonough Arena and include practice courts, team meeting rooms, men's and women's basketball coaches' offices, and weight-training and sports medicine rooms for all varsity athletes. The new facility also includes a Student-Athlete Academic and Leadership Center, an auditorium, team meeting facilities for varsity programs and a new venue for the Georgetown Athletics Hall of Fame.
On a bright Friday, more than 500 people – including former players such as Patrick Ewing, Dikembe Mutombo, Alonzo Mourning and Allen Iverson, all of whom played for Thompson Jr., and more recent players ranging from Jeff Green, Roy Hibbert, Otto Porter Jr. and Henry Sims, who played for current Head Coach John Thompson III – came to the site for the official groundbreaking of the facility. The morning began with a welcome from the Hoyas' current head coach, who introduced Director of Intercollegiate Athletics Lee Reed.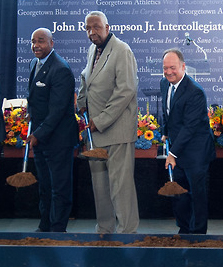 The invocation was conducted by Edward Glynn, S.J., the president emeritus at Gonzaga University, St. Peter's College and John Carroll University. He was followed on the dais by William J. Doyle (C'72), the chair of the "For Generations to Come" campaign, Irene Shaw, member of the Board of Regents, Paul Tagliabue (C'62), Chair of the Board of Directors, Emily Hall (C'15, the president of the Student-Athlete Advisory Committee) and Frank Rienzo, Intercollegiate Athletics Director Emeritus.
Georgetown University President John J. DeGioia introduced Thompson. "We are different and better than we were 42 years ago when John Thompson joined this community," he said. "John provided us with a new way to imagine, to interpret our values and enabled all of us to see possibilities for what we could be that had not been realized before he joined this community."
When Thompson stood to take the podium, the entire crowd came up for a standing ovation, finally sitting down after Thompson reminded them "we can't be here all day."
He spoke for 10 minutes, talking about his relationship with President DeGioia, about many of his former players – "he shot everything he got in his hands," Thompson said of Iverson – and some of his close co-workers, from men's basketball trainer Lorry Michel to former academic advisor Mary Fenlon.
John Thompson Jr.'s name is synonymous with success. From 1972 to 1999, he compiled 596 wins, the most of any coach in the history of Georgetown University and the magnitude of his achievements is undeniable. On the court, he amassed league-leading records against all BIG EAST Conference opponents (233-122) and captured 13 BIG EAST Championships, seven regular season titles and six tournament championships. Thompson's Hoya teams earned 24-consecutive invitations to postseason play, appeared in three NCAA Final Fours (1982, 1984 and 1985) and won the NCAA Championship in 1984.
"Without the help of a lot of people that are in here now, it would've been impossible to succeed," he said.
Thompson talked about successes – from the 1984 NCAA title and BIG EAST Championships – and losses – from the 1985 NCAA Championship game to the 1988 Olympics. However, he said he gains the most satisfaction in seeing the success that many of his players have had off of the court as well.
"It's not the graduation rate, it's what you do with the education that's important," Thompson said. "This school is defined by more than just victories. This is an educational institution."