Georgetown BID Selects Joe Sternlieb as its New CEO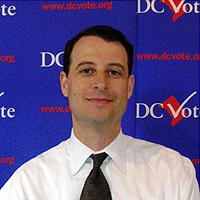 Georgetown Business Improvement District (BID) has announced the appointment of Joe Sternlieb as its new Chief Executive Officer (CEO).
In a press release issued Thursday, the BID said, "Sternlieb is an exceptional leader with an impressive track record in both the public and private sectors, ranging from his most recent post as Vice President of Acquisitions for EastBanc, Inc. to serving as Deputy Director of the nation's third largest BID, Downtown DC."
"The Georgetown BID is moving in an exciting direction to help ensure the continued success of the neighborhood as a vibrant local community and international destination," said Crystal Sullivan, president of the Georgetown BID Board of Directors. "Joe is widely regarded for his talent, energy and ability to move things forward and we are pleased to welcome him to the Georgetown BID. We are looking forward to the leadership and vision he will bring to the Georgetown business community."
Sternlieb currently serves on the Board of several civic organizations including the D.C. Building Industry Association, D.C. Surface Transit Inc. and DC Vote.
As CEO of the BID, Sternlieb will be responsible for developing and implementing the BID's vision in ensuring Georgetown's position as Washington's preeminent retail and entertainment neighborhood, while forging a strategy for promoting Georgetown as an ideal office location. He will report to the Board of Directors and will be responsible for the guidance and management of the BID's staff in administration and financial reporting as well as directing the day-to-day activities of the BID.