Georgetown BID rolls out rat battle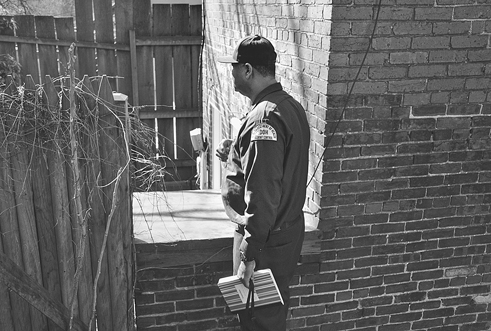 By Carol Buckley....
...Current Staff Writer
Georgetowners gathered last week to discuss the neighborhood's perennial dirty little secret: rats.
"We don't want rats. We don't want people to know we have rats," said Patrick Clawson of the Citizens Association of Georgetown, one of the sponsors of Wednesday's meeting.
The historic area's business improvement district agrees and is sponsoring a 15-site program to target rat activity in commercial locations, said the nonprofit's Alfred Corbin.
The group, which is funded by a tax levied on commercial property owners, has paid Western Pest Control more than $25,000 this year and is willing to commit more funds to the project next year, said executive director Jim Bracco.
The pest control company maintains bait stations and checks them weekly, said Western's Jim Williams. And the project is working, he said: "The [rat] numbers have diminished greatly."
A few years ago, the magic bullet of rat abatement in Georgetown, particularly for restaurants, seemed to be trash compactors, which proponents said were the best way to contain rat-attracting food refuse. But now the struggling economy has made business owners look to less expensive forms of pest control.
Tom Crenshaw, executive chef of Paolo's Ristorante, said that although he has spent "probably more than [he] should have" on rat abatement, he knew he wouldn't be able to convince the restaurant's owners to spend $15,000 on a compactor right now.
D.C. "rat czar" Gerard Brown of the city's Department of Health said he had instructed Crenshaw to buy a compactor or build a rat-proof structure to house trash after complaints poured in about the restaurant's trash-disposal habits.
"We had rats running everywhere," said a neighbor of Paolo's who asked not to be named. "It looked like a soccer game."
Crenshaw said Paolo's did end up building a rat-proof trash structure, in addition to revamping the garbage area and hiring an employee to "clean, spray and scrub" the site daily.
"He's done more than we asked," noted Brown.
But the city's rat-enforcement team stressed that restaurants are not the only culprits. Sonya Chance, the neighborhood's inspector from the Department of Public Works, said 90 percent of the tickets she hands out are to residents who put plastic bags of garbage out for collection, outside of a trash bins -- a guaranteed way to attract rodents, she said.
And there are plenty of offenders, noted Chance, who handed out 19 citations last Monday alone.
Sometimes, both commercial and residential property owners contribute -- at times unwittingly -- to a rat infestation. Alex Kiefer, a resident of the 3200 block of Q Street, said that nearby restaurant Los Cuates created a rat problem on the block when it failed to have trash service for two weeks about two years ago.
Los Cuates co-owner Luis Merchan acknowledged that "at the beginning, we had an issue, that's true. But we are now doing the best we can ... to keep everything under control."
But Kiefer said the neighborhood has "never recovered," adding that he learned recently that his own property had become a likely harbor for rats. When inspectors responded to his household's concerns about the restaurant and a nearby gas station, now abandoned after a recent fire, Kiefer was told that the vegetation in his rear yard should be removed.
"We're taking care of that now," Kiefer said.
Brown of the Department of Health said property owners should inspect their own yards and call the city with any concerns. And when looking around, he added, homeowners should "think like a rat."
Low ground cover such as English ivy is a popular spot for rats to hide, said city enforcement officials. Stacks of firewood placed directly on the ground as well as pools of standing water also attract rats, they said.
To combat a rat infestation that spans more than one property, the city offers petitions that neighbors may sign to get an entire block inspected at once.
This article appears in the June 1 issue of The Georgetown Current newspaper.