Georgetown BID Announces DDOT Public Space Partnership Agreement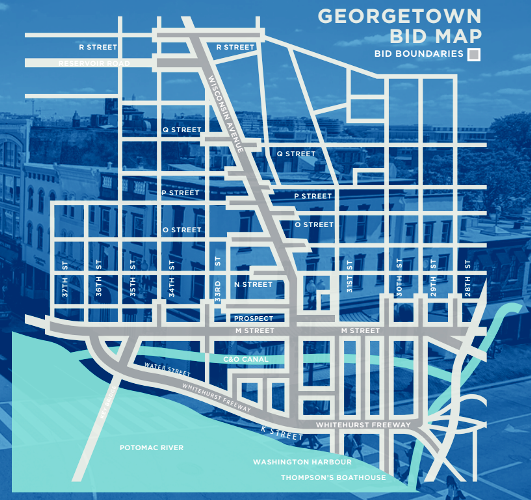 The Georgetown Business Improvement District (BID) and DDOT entered into a year-long partnership designed to more quickly and efficiently maintain public space within the BID's boundaries. Under the agreement, facilitated by the Public Space Maintenance Contracting Authorization Act of 2014 (B20-0796) that was introduced by Councilmembers Mary Cheh and Jack Evans and co-sponsored by then-Councilmember Muriel Bowser, DDOT will contract with the Georgetown BID to complete small brick and cobblestone repairs on Georgetown's sidewalks and alleys, as well as install and maintain bike racks in the area.
"There are over one million bricks on Georgetown sidewalks, some of which are loose, broken, or missing at any given time," said Georgetown BID CEO Joe Sternlieb. "This agreement allows DDOT to use the BID's staff and 'eyes on the street' to quickly identify and fix problems on a daily basis." said Sternlieb.
"I applaud the Georgetown BID for their willingness to partner with DDOT to maintain the sidewalks and bike racks in Georgetown," said DDOT Director Leif A. Dormsjo. "This agreement will serve as a model for future partnerships with other BIDs that will give DDOT some of the help it needs to address the volume of maintenance requests within BID boundaries."
By keeping many of the unique historic paving materials used in Georgetown in inventory, and training its own staff in brick repair, the Georgetown BID is able to identify and repair small sidewalk jobs in as little as 24 hours.
The Public Space Maintenance Contracting Authorization Act of 2014 specifically authorizes the Mayor and city agencies to enter into maintenance agreements with Business Improvement Districts and to reimburse them for work in public space. The agreement allows for DDOT to reimburse the Georgetown BID for repair and replacement work completed in FY 2016.