Georgetown Beauty Gets Under Your Skin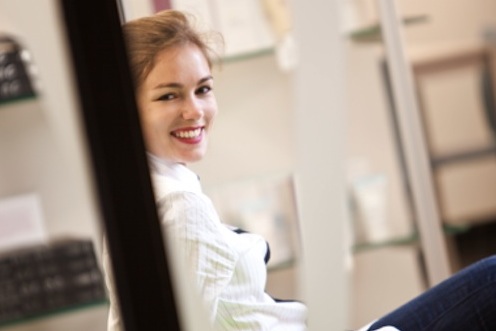 True beauty is beyond skin deep, but why not start there?
Alchimie Forever, the unique Georgetown skin care studio and product line, is coming to the rescue of time-limited and stressed-filled lives with alchemy-like remedies in a new space near Wisconsin & M.
Image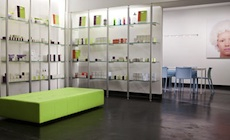 Alchimie, the modern French version of the Persian word kimie, is both a philosophy and an ancient practice focused on the attempt to change base metals into gold -- metaphorically, the search for an "elixir of longevity" leading to ultimate wisdom.
Fast forward to today's Georgetown. Under the leadership of co-founder Ada Polla, Alchimie Forever is not just eliminating the ravages of time and stress on the human body, but helping clients create lasting, lifelong beauty through a philosophy of health and balance. It all starts with Polla, Swiss daughter of a dermatologist and biomedical researcher -- a determined entrepreneur who has skin care in the genes.
Ada learned at the elbow of Geneva-based parents Luigi and Barbara Polla, who started using laser technology in the 1980s to advance non-cutting medical techniques for the skin. The
Image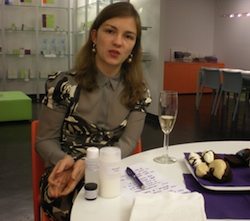 idea was to improve the features of the face with subtelty, rather than making drastic changes. Ada, coming to Georgetown two decades later, wanted to find a way to extend serious, non-medical dermatologic practices to a broader audience. Thus, Alchimie Forever was born.
Barely starting her studies at Georgetown's graduate school of business after earning an Art History degree at Harvard, Ada developed the concept of a skin care studio in Georgetown as a base for marketing a line of carefully crafted serums, scrubs and creams that Alchimie Forever now creates. Father Luigi uses his clinical practice to identify patient needs, mother Barbara works at the cellular level to develop the formulas, and Ada creates the strategies to get the products to people.
Image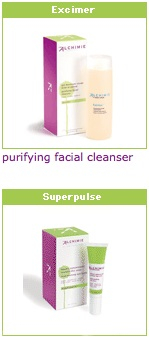 The tiny family business is becoming a respectable multinational. The composed 32-year-old Ada and her team just signed a five-year lease at 1010 Wisconsin Ave., after several years in smaller spaces. Annual revenues are about $1 million. This from a humble start just a few years ago in a studio apartment in the Paper Mill. "The unit was so tiny we kept the credit card machine next to my bed," she says. "That caused a few jokes."
All kidding aside, the business is growing and bringing a unique line of products to Georgetown and beyond. Polla proudly points out that hers is the only beauty product business based in Washington. Polla says the region is in serious need. "There is a dearth of self-care here," she says. "People don't take time for themselves."
Alchimie Forever aims to change that. Polla recommends that clients take 15 minutes at the start and end of each day to cleanse and nurture the face. "In my life, it's the only time I take for myself, and it's very important," she says. The products rely on natural plant extracts such as blueberry, rosemary, tomato and grape, rather than retinoid or synthetic acids. Each extract works separately to make skin firmer and smoother, reducing redness, roughness and spots.
Ada tried to conceal her disapproval when I told her I had been using only soap, water and a washcloth on my face. What kind of soap was it? I had no idea. She patiently suggested a
Image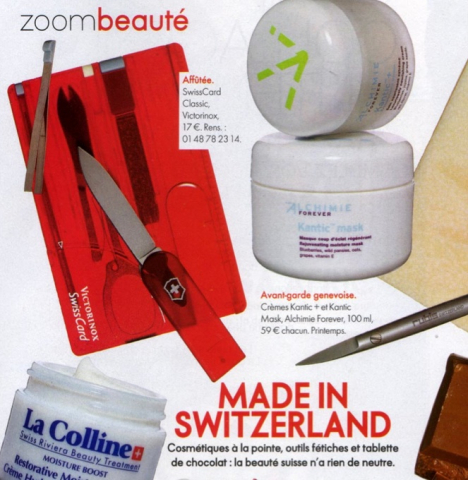 cleanser and moisturizer whose natural scent picks me up and makes my face come to life. Within a few days, there was visible, significant improvement. My skin looked better, I looked younger. Would you believe I'm 25? Well, maybe 26. Thanks to Ada, you might be fooled.
"We're making the world a better place," Polla says confidently. "People are happier if they take good care of themselves."
Looking at the complexions of Polla and her partner Rachel Johnson, it's clear they are onto something. And they are blessed with some powerful friends and fans. Dr. Tina Alster, Georgetown's dermatologist to the stars, met Ada's father Luigi at Harvard and became Alchimie Forever's first customer. "She bought six of everything," Ada says. "I keep the order framed on the wall."
Alchimie Forever's typical client lives in Georgetown, where facials as well as consultations are offered. Most clients are in their 30s and 40s. "We have one loyal customer who is 83. Isn't that great?" Polla asks sincerely. "And then I have friends who are moms who spread the products on their babies' bottoms."
Polla and her business, sparkling, determined and fearless, represent a spirit that might be called the Alchemy of Georgetown. Make that Alchimie...
Photos courtesy of Alchimie Forever, Marie Claire, and Elle.