Georgetown bakery closing after 27 years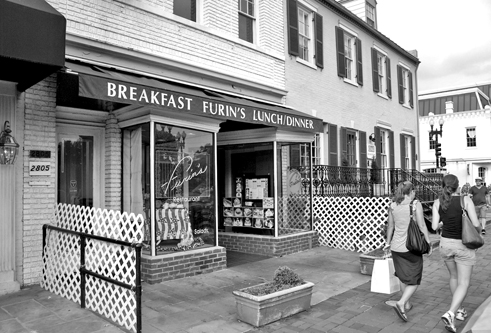 By Jackie Zubrzycki
Current Correspondent
Furin's of Georgetown, an M Street staple for 27 years, will close its doors on July 31.
combination catering company, bakery and cafe is truly a family affair: Owner Bernie Furin, his wife Wendy and his son Chris are daily fixtures in the kitchen and behind the counter, having purchased the building at 2805 M St. seven years ago.
But rising food prices and property taxes and a general decline in catering business have combined to make staying afloat untenable, said Chris Furin, who has worked at Furin's since he was 13. "Food costs have gone up 30 percent over the past year. … None of our other costs were going down, but we've had a difficult time raising our prices," he said.
He added that the lack of a liquor license made it more difficult to make ends meet. "We tried to keep it going as long as we could. … That's why you'll see a lot of big businesses coming [to Georgetown that] can afford the cost of doing business," he said.
The building has been acquired by Foxhall Partners, which also owns the building that houses Hook and a number other Georgetown properties. Foxhall did not respond to a request for comment by press time. The sale took place privately, according to a real estate agent for Furin's, and the business will remain open through July.
But as the end approaches and word gets out, the community is beginning to mourn the loss of yet another small business.
The restaurant's reputation and proximity to the Four Seasons means it has seen its share of celebrity visitors. Madeleine Albright, George Will, Chris Malone, Karl Rove, George Soros, Harrison Ford, Al Pacino, Ted Danson and Angela Lansbury are just a few of the notables who have breakfasted or lunched at Furin's.
Local families and businesspeople have also made Furin's a popular breakfast spot and bakery.
Jennifer Altemus, president of the Citizens Association of Georgetown, spoke of children who enjoyed Furin's cakes for every birthday, of weddings and graduations catered by Furin's, and of another Georgetown resident who would particularly miss the place: Tom Birch "eats there every single day," she said. "I don't know what he's going to do without it!"
Birch, a Georgetown advisory neighborhood commissioner, spoke about the family's warmth. "Bernie is so devoted to customer service. He, Wendy and Chris feel like part of the community and make us feel like part of Furin's."
Realtor Nancy Itteilag, who worked with the Furin family to sell the building, says a generation of Georgetown kids grew up on Furin's cookies and cakes. "When I told my daughter, she said, 'They can't sell Furin's! You have to buy it!'"
Not all aspects of the business have declined. The new batch of cupcakeries in Georgetown, for instance, didn't hurt Furin's; in fact, Chris Furin said, it helped. "People walking from Metro see a sign saying cupcakes and come in. We probably make 200 cupcakes a day. We used to make about 30."
Furin's also took advantage of new online coupon sites like LivingSocial and Groupon, but Furin said such services offer limited benefit to businesses with small profit margins, as all products need to be discounted by at least 50 percent. "We got a lot of business, but you see them one time and that's it."
Itteilag noted that the closing was part of a "quiet problem": "Small-business owners who are reaching the age of retirement, anyway, are spurred on to retire by the expense of doing business. It's driving them out."
Altemus also commented on the departure of locally owned, independent retailers from Georgetown, citing the recent loss of Proper Topper gift and clothing store and others. "If we lose more small businesses and restaurants, Georgetown won't be any different than Tysons Corner. If the big businesses are the only businesses that can make it, it loses some of the historic charm."
Itteilag and the Georgetown Business Association are organizing an event in mid-August to celebrate Bernie Furin's contributions to the community. Chris Furin will continue to make cakes through a separate business venture called Cakes by Chris Furin, which he said will probably be based in Rockville.
Chris expressed sadness about leaving Georgetown, saying that Furin's "prided [itself] on providing good food at an affordable price for Georgetown customers. We're going to miss everybody."
This article appears in the July 6 issue of The Georgetown Current newspaper.