Georgetown ANC Votes to Restrict Curbside Dumpsters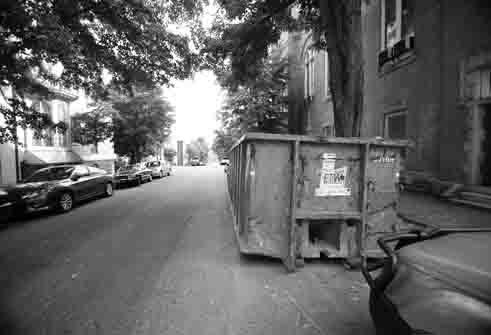 By Graham VyseCurrent Staff Writer
Georgetown's advisory neighborhood commissioners voted unanimously Monday night to request that curbside dumpsters be banned — or at least severely restricted — on residential streets in their community.
Commissioner Tom Birch said he and his colleagues still need to take their proposal to D.C. officials, but they said the time had come to prevent dumpsters used during home renovations from taking up so much space in Georgetown.
"We're all familiar with the use and the proliferation of dumpsters in our neighborhood," he said. "They're available for long periods of time. The permits are cheap. They're easily renewable." As a result, Birch said, they are taking up an increasing number of parking spaces and jutting out onto narrow residential streets, frustrating residents.
Moreover, most dumpsters may be unnecessary because contractors working on home renovation projects in the area usually have access to waste removal trucks, he said. One resident told Birch her family had renovated four different houses in Georgetown without ever using a dumpster.
As of now, it costs a contractor only $75 for a permit to keep a dumpster on a D.C. street for a month. Birch said the District should consider emulating Old Town Alexandria, where a contractor would have to pay $1,900 to keep a dumpster out for that amount of time.
Commissioner Dennis Quinn said he supported Birch, but he would have "a very keen eye on making sure that policy outcomes are limited to Georgetown." Quinn expressed concern about advocating for higher permit fees in other neighborhoods without first consulting community leaders there.
But Birch pushed back, saying "some things will only happen if they're applied citywide."
"I would suggest that this problem may be a serious bother to the residents of other neighborhoods across the city," he said.
Birch also said commissioners would need to be prepared to take on a wide array of dumpster-providing companies in the region that might fight against new regulations.
"I suspect there's a dumpster lobby out there," he said with a twinkle in his eye.
Concerns about dumpsters in Georgetown have arisen before, and the office of Ward 2 D.C. Council member Jack Evans began working with the community earlier this year on potential solutions.
In a statement to The Current this summer, Evans said: "Parking continues to be a large concern for residents and visitors in Georgetown. I understand that the ANC is working with residents to discuss different issues, including how to manage dumpsters. I look forward to working with the ANC and residents on any recommendations they make."
This article appears in the Oct. 1 issue of The Georgetown Current newspaper.