Georgetown ANC Objects to Plan for Hospital Trailers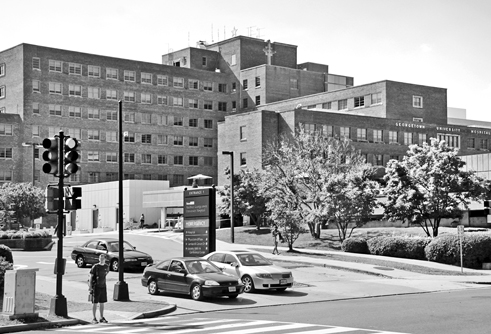 By Brady HoltCurrent Staff Writer
Plans for temporary trailers at MedStar Georgetown University Hospital drew a rebuke from the Georgetown advisory neighborhood commission Monday night.
The hospital is seeking to install two trailers as overflow office space for clinicians on its Reservoir Road campus. The selected site would be located near the Lombardi Cancer Center and not visible from the street.
"We're really very tight in the hospital," Regina Knox Woods, MedStar's vice president for government affairs, said at the meeting. "Office space is at a premium here."
When possible, administrative functions have already been shifted off-site, Woods said — including her own office. And a pediatric outpatient clinic is moving to 4200 Wisconsin Ave.
The trailers would house a handful of clinicians who need to be near the main hospital, while their old spaces would be dedicated to other needs. Woods said the trailers would be in use on "a very temporary basis" while the hospital identifies alternatives; she later said the structures could be in place for up to two years.
Although the hospital itself is not a historic building, the campus is within the Georgetown Historic District, so work there is subject to preservation design review. And neighborhood commissioners weren't pleased with the proposal.
"Trailers as office space in a historic district for an indefinite period really strikes me as not the best idea," neighborhood commission chair Ron Lewis told Woods.
"The people at the hospital have looked at this a lot and they said this is the best solution," Woods said.
"Well, maybe they should go back and look a little harder," countered Lewis.
The commission's resolution urges the D.C. Historic Preservation Review Board to reject the hospital's application, calling trailers "inappropriate and generally objectionable" for Georgetown. (Such projects generally go before the federal Old Georgetown Board, but they fall to D.C. authorities when they're not visible from the street.)
Neighborhood commissioner Peter Prindiville, who represents a section of the Georgetown University campus, said he saw some merit to the hospital's plan.
"I understand Commissioner Lewis' concerns and the need for more strategic planning, but there are also concerns about the need to provide medical services," said Prindiville, who voted against the resolution. He added that the trailers would not be visible from many community vantage points — "perhaps the medevac helicopters could see it."
MedStar's Woods did not go into details at the meeting about which offices needed particular space at the hospital. Reached for comment yesterday, she referred questions to the hospital's media office. Spokesperson Marianne Worley didn't respond to questions.
This article appears in the Oct. 2 issue of The Georgetown Current newspaper.