George Town Club Leaders Recruit Young Professionals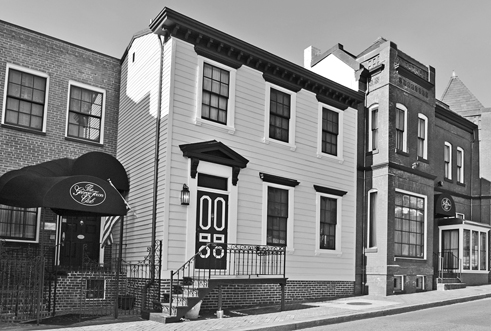 By Alix PianinCurrent Staff Writer
A young professionals committee is working to breathe new life into the nearly 50-year-old George Town Club, where facility use has been on the decline in recent years, members say.
The board of the club, located at 1530 Wisconsin Ave., has spent the last year strategizing ways to boost attendance and attract new members — particularly people under 35, said board member Sharon Casey. The club formed the new committee to develop fresh events, overhaul the club's interior design and revamp its restaurant menus.
"A lot of our members … were older, and they didn't use the club as much," Casey said. "People would go [into the club], and there wasn't a lot of lively activity."
In more recent years, Casey said the George Town Club board saw that members were visiting the venue mostly for formal special occasions, but did not come more casually on a daily or weekly basis. Not only was daily activity slow, but turnout for scheduled club events was "anemic," Casey said.
The key to reinvigorating the club, Casey said, seemed to be in shifting its demographics. The board reached out to about a dozen young professionals in the area to discuss ways to attract a younger crowd, including Elizabeth Miller, a recently joined member who has been working on new events and strategies.
An interior house design committee has been tasked with updating the club's decor — "The Williamsburg blue upholstery is a little out of fashion," Miller noted. Local restaurateur Bo Blair is creating a new menu for the club's Grill Room, which will feature less expensive gourmet food and beer options "so that people can eat there more frequently without taking as big a hit to their pocketbook, while preserving very fine dining in our dining room," said Casey.
And a programming team has spent the last few months working to develop events and activities to attract different types of members and visitors to the George Town — including a series of February "learning lunches" with guest speakers. The idea, Casey said, is to arrange a variety of events that will accommodate people with different types of schedules.
Earlier this month, architect Simon Jacobsen discussed his award-winning architecture; a workshop last week with florist Sidra Forman on flower philosophy and arrangement was sold out. Today, the George Town Club will host an appetizer-and-cocktail evening event with authors Franklin Foer and Marc Tracy.
The George Town Club, which started in 1966, is made up of three town houses that have been combined into one establishment. Members have access to private living rooms, dining rooms, wine cellars and entertainment venues — where they can host parties and attend events like concerts and wine tastings.
In bringing younger members on board, the club has also benefited from their social network. Each committee member personally reached out to five friends or acquaintances who might be interested in joining; soon, the club gained more than 50 additional members.
"No one wants to join unless they know other people are joining," Casey said. "It was like everybody joined hands and jumped in the pool together."
The George Town Club currently has about 500 members, she said.
While the club may have originated as a stomping ground for nearby Georgetown residents, a number of its members now live in the Maryland or Virginia suburbs. One goal is to make the club an appealing place for people who live outside Georgetown but work in the area.
"I use the club a lot to hang out — sometimes I'll have couple hours of dead time between a meeting and an evening event," said Casey, who lives in Maryland. "It's a great place for people to hang their hat while in the city."
"I think people would love to venture [to the club] in the morning, sit next to the fireplace, read a newspaper they don't subscribe to at home," Miller said. "Most major cities — London, New York — have clubs like these, and they're successful."
The club board also hopes to attract membership from families who may be moving into the area for the long term, and could appreciate a neighborhood home-away-from-home.
The George Town Club could provide a place where "the staff knows them, knows what they drink," Casey said. "It's a world that doesn't exist anymore. We live in such a world of anonymity that you have to go to a restaurant pretty frequently for them to know you."
Change to the George Town Club will most likely come over the next year and a half, said Miller.
"Rome wasn't built in a day," she said. "What [the club] was in the '80s is what it still is today, and that model is a little outdated. We need to take everything that's great about it and just make it a little bit more current."
This article appears in the Feb. 20 issue of The Georgetown Current newspaper.