George Draws Neighbor Protests Over Request to Double Occupancy Limit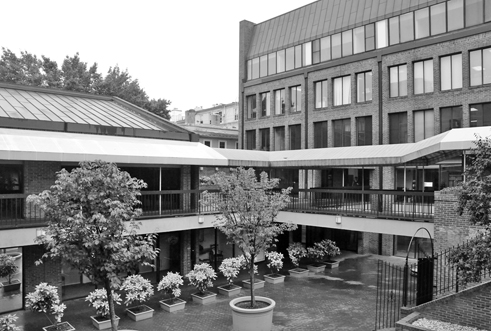 By Brady HoltCurrent Staff Writer
Georgetown community leaders have protested an application by George, the nightlife hotspot at 3251 Prospect St., to terminate a settlement agreement that caps its number of patrons.
Owners of George signed the document — previously called a voluntary agreement — years ago with the Georgetown advisory neighborhood commission and the Citizens Association of Georgetown. The agreement's terms limit the restaurant's capacity to 99 patrons, while the building is large enough to legally hold 200.
"We're seeking to modify our voluntary agreement in order to increase capacity for limited windows during the weekend," George co-owner Reed Landry wrote in an email to The Current. "This will allow us to host a variety of private and corporate events that we're currently not able to accommodate."
Some residents say George sometimes acts more like a bar than a restaurant, though its license identifies it as the latter. (George's website describes it as "a neighborhood restaurant & tavern," as well as a "prep bar," and boasts that it was picked in a 2010 Washington Post poll as "the preppiest place in Washington.")
With just 35 seats and a handful of menu items, "that doesn't really sound like a restaurant to us," said the citizens association's Jennifer Altemus.
"It would be nice if they could serve some more food," neighborhood commissioner Bill Starrels said in a separate interview.
Landry — who has been involved in a number of nightlife ventures in Georgetown and Glover Park, including co-owning Mason Inn at 2408 Wisconsin Ave. — rejects such criticisms. He wrote that George has "never had an issue satisfying our food requirement," referring to the city's regulation that restaurants like his make 45 percent of their sales from food or at least $2,000 per occupant annually.
Starrels said yesterday that negotiations with George are proceeding and include issues of menu selection and seating capacity. The neighborhood commission voted unanimously at its July 1 meeting to file its protest; the citizens association had already done so. The protest procedure allows parties time to negotiate and ideally reach an accord, and a public hearing follows if that does not occur.
Neighbors have also complained of being woken up by George's loud patrons, Altemus said. "We have heard from various people there is noise resulting from people waiting in line and coming and going through the courtyard," she said.
Also, Altemus said some nearby restaurants "aren't happy with the clientele that George brings in … the number of people who are younger and more boisterous."
"We've had a few issues and the bottom line is, if you double the numbers, the chances of something becoming more of an issue is greatly increased," said Starrels.
Landry said that logic doesn't apply to the situation at George. "The main noise issue we deal with is when we're at capacity and patrons are forced to wait in line outside the courtyard," he wrote. "By increasing the capacity to that which is allowed by the fire marshal, it will likely alleviate any noise issues that currently exist."
This latest effort is George's second attempt to terminate its agreement with the community. The Alcoholic Beverage Control Board rejected an application submitted several years ago, a decision that was upheld by the D.C. Court of Appeals.
Starrels said he's hopeful a compromise will be reached this time, citing "good rapport" and regular discussions with the restaurant's representative.
This article appears in the July 17 issue of The Georgetown Current newspaper.