Gelato for Breakfast? It must be Rome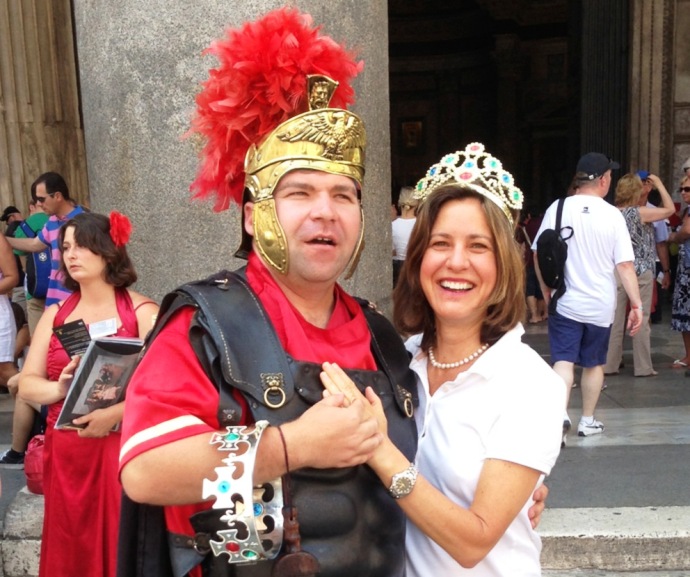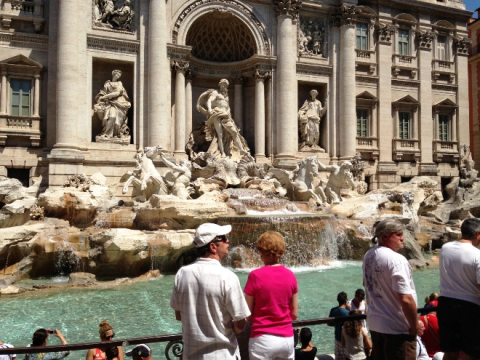 I admit it. I had gelato for breakfast today.
Is that disgusting? Was it vile?
Actually it was luscious. Worse, it was normal.
You see, it's Rome. Rome in July.
Tourists teem around the beautiful Trevi fountain, bobbing and weaving for new Facebook photos in front of the magic white sculpture. Cheese! The sun blazes toward noon. A fruit stand offers tasty-looking watermelon. But it is no match, no competition at all for a scoop of Noccio, or walnut. Gelato, that is. Like heaven in your mouth. Not accidentally -- no, especially -- before noon.
In Rome, you see, "Live a little!" takes on new definitions. Even sober Rick Steves, the PBS travel host, recommends diving in head first, with a backflip or two -- not sticking one's toes in the water -- to truly experience this thriving, throbbing, delight of a city.
If it were a cake, it would be a 15-layer meringue, raspberry-chocolate Tiramisu swirl with sparklers on top. And peaks of whipped cream. That would be layer #1. Rome tickles the mind and thrills the senses with its breathtaking beauty and its open, free spirit.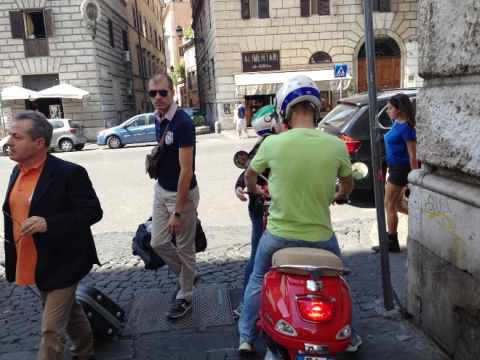 Audrey Hepburn, playing Princess Ann in William Wyler's Roman Holiday, discovered this. "Ann, the crown princess of an unspecified country, has started a widely publicized tour of several European capitals. In Rome she becomes frustrated with her tightly scheduled life. Her doctor gives her a sedative to calm her down and help her sleep, but she secretly leaves her country's embassy to experience Rome on her own," says Wikipedia.
Severely dazed, Ann is discovered late at night sleeping on a city bench. American journalist Joe Bradley (Gregory Peck), not recognizing her, tries to send her home, but she is too confused. When she regains her faculties in his apartment on the couch, she realizes she has broken free of her schedule, cuts her hair short, and remains incognito for several days with Joe and the journos, who plan to publish their exclusive scoop, but end up giving Ann all the photos and staying mum. Quaint, huh? It's cute.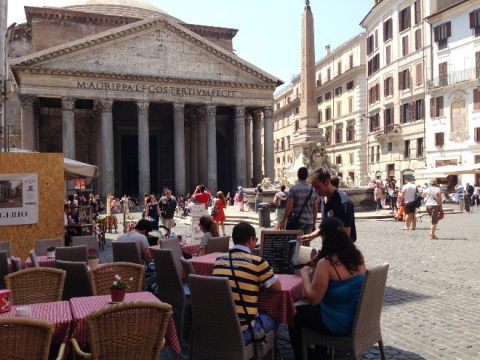 Hepburn, symbolizing the potential freedom of a young woman abroad when the movie was made in the early 50s, won an Oscar for her delightful and prescient performance.
But whereas Princess Ann had no cash due to her escape, now you might pay $6.00 for a Coke in a tourist-oriented caffè with plastic table cloths. But who cares, when you have just heard the most beautiful Gregorian chants in a basilica dedicated to St. Mary of the Angels and Martyrs, for free? The church, near the Piazza della Repubblica, is off the beaten track, far from the gelato stands and lines of the faithful at St. Peter's or the Vatican. A church volunteer offers me a shawl to cover my bare arms as I tiptoe in. "Zip your bag!" he warns. It's hard to imagine pickpockets in this peaceful, graceful church, but I obey and drape the soft, sweet-smelling scarf on my shoulders as the humble music caresses the air. The heart slows as one is wrapped in this serene beauty, designed by Michelangelo on a break from his more prestigious, more famous work at St. Peter's.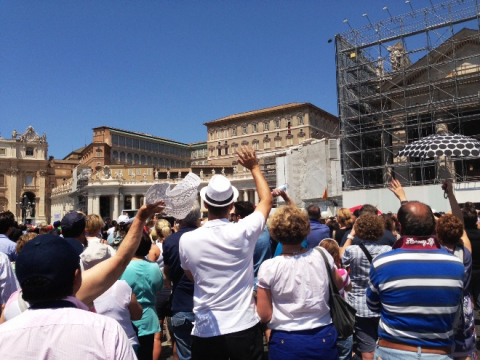 It's not that this Roman Holiday is gelato-for-breakfast only. The Keats-Shelley House, the Da Vinci Museum, the Pantheon, the majestic Forum and the Jewish museum (bring Kleenex) all offer excellent experiences. I visited the Sistine Chapel and the Vatican museums. The Last Judgement and The Creation of Adam will practically knock you to the ground with their artistic power.
For that excursion, I bought a flowery blouse and a bouncy skirt, and practically skipped there, like it was the first day of school. They said no shorts would be allowed. It turned out to be a myth, but the purchases were a great start to my "I hate to shop" Roman shopping spree.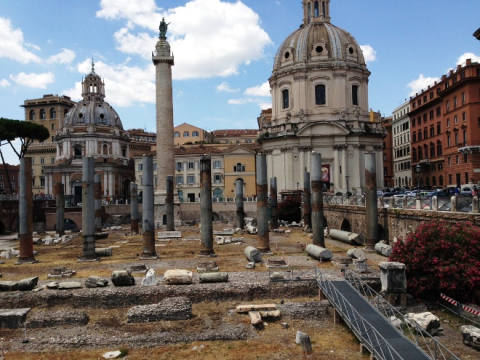 I HATE to shop. Five minutes in a mall has me light-headed and looking for the exit. But in Rome, each day offers an opportunity to partake in the local sartorial delights and help the struggling European economy. The fate of the Euro affects us all, remember?
And who wouldn't want to support a city in which at every step one finds art, ancient history, and friendly Romans, who seem to be universally happy and solicitous.
At my hotel, the wonderful, well-located Comfort Hotel Bolivar, part of the Choice Hotel group, I ask the handsome desk clerk how he is doing. "I would prefer to go out into the town with you," he says plaintively. Translation: "I'm fine, thanks."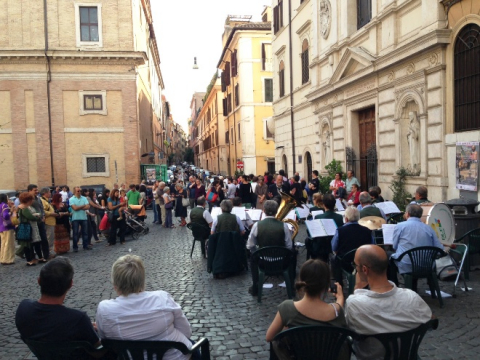 You see, there is a vivacious, bubbly, smiling spirit shining through the people, the beauty, the monuments to history and of course the Houses of God in Rome that wraps you in its arms and gives you a delicious embrace.
You want to say out loud, "Ask not why you would visit Rome, but why ever would you leave?" Besides paying for this blessed privilege, there is no good excuse.
Dear United Airlines ... found La Dolce Vita ... must change return flight ...
One can dream.
But if it's true that into every life a little rain must fall, then -- if there is any justice -- so too should a little Roman Holiday.