Friends help keep Scheele's mart in place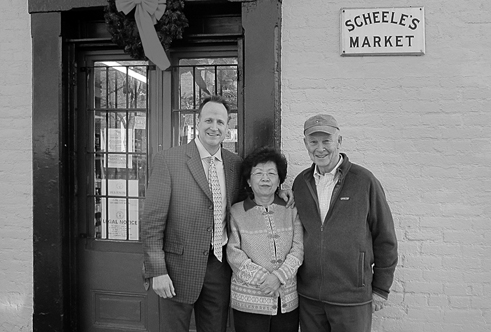 By Deirdre annon
Current Staff Writer
Scheele's Market, a treasured neighborhood institution in Georgetown, has a new lease on life thanks to an agreement reached earlier this month between the new owner of the building and a community group dedicated to saving the store.
Jordan O'Neill, who bought the property at the corner of 29th and Dumbarton streets in February, agreed to maintain the first-floor retail space as a corner market for the next 15 years. Current tenants and longtime store operators Shin and Kye Lee agreed to a five-year lease with an option to renew for an additional five years. And Friends of Scheele's, a community group that formed to help maintain the rare neighborhood shop, helped coordinate the deal.
"Scheele's Market is a neighborhood treasure," O'Neill said of the shop, which provides fresh produce and pantry staples and still offers charge accounts to customers. "I'm very happy to be able to work out an arrangement where we can keep Mr. and Mrs. Lee in the neighborhood. They are a beloved part of the community, and are well-respected, hard working, and do everything they can to make sure the store runs efficiently."
In order to keep the Lees as tenants, O'Neill agreed to lease the space at a price they could afford, and Friends of Scheele's, a neighborhood group that organized to help save the market, will subsidize the remainder of the rent, bridging the gap between the lease terms and the market value of the space. The group will also raise money to help pay the property tax, a cost that is often passed on to tenants of commercial space.
"The value of Scheele's is tremendous because it is a touchstone in the community," said Malcolm "Mike" Peabody, the president of Friends of Scheele's. "Neighbors meet each other at the store, we pass along information, we become friends — the market has made a community out of a bunch of city blocks that otherwise wouldn't occur."
Peabody said neighborhood residents have come to rely on Scheele's Market, which has been in operation for more than a century, for things like last-minute ingredients for evening meals and as a place to chat over morning coffee. When the Scheele family decided to sell the building in 2008, it was unclear whether a new owner would allow the Lees, who have operated the store for the last 20 years, to maintain the market. Other options included bringing in a different retail establishment or possibly converting the place into a single-family home. Peabody and other neighbors decided to take an active role in trying to maintain the market.
"In effect, what we were saying to each other is that this market is so important to our community life that we are ready to subsidize the store so that the store owners can get by," said Peabody, who worked with Marilyn Melkonian to spearhead the effort to save the store. "It's worth it to do this."
Friends of Scheele's is continuing to seek support from the community as the group raises money to help keep the store going.
Georgetown, which was once home to a number of corner markets, has seen one after another close in recent years, as competition from large supermarkets proved too much for small grocers. Griffin's market at 27th and P streets closed this year, and while Sara's Market on Q Street is still open, it added a dry cleaning service to help maintain the store.
"It's important to have a store a few steps from home that gives you the ability to run out for milk or pick up a few ingredients to put together a meal — that's the way of life people want in a city, to not have to get in their car and drive to a supermarket," said Georgetown advisory neighborhood commissioner Tom Birch, whose single-member district includes the shop.
"The Lees have become part of the community; we have taken them into our hearts as they have with us," he added. "Scheele's Market is the pulse of community where all intersect with each other, and I'm glad they were able to come up with a plan that works for everybody."
This article appears in the Dec. 28 issue of The Georgetown Current newspaper.