A fresh look at the original Paolo's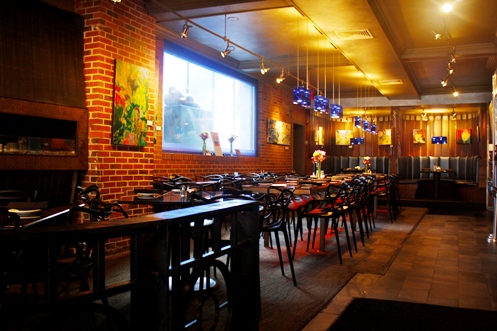 The tradition of its past coupled with an embrace of the modern has kept Paolo's Ristorante, a Georgetown Cal-Ital restaurant (traditional Italian made California fresh), strong these past 24 years. Its exterior bears the restaurant's characteristic mellow, yellow coloring, a landmark on the corner of N Street and Wisconsin Avenue. Since its opening in 1987, Paolo's has strived to balance catering to its clientele- both old and new- while evolving to fit the sexy, modern times of today.
And that it has. Step into Paolo's: a sleek, elegant styled restaurant. The décor features dark- wooden tables with ornate chairs and edgy booths. Dimly lit, orange and blue lights add a modern touch to the classy yet stylish venue. "Our owner… really tries to keep up with making the place looking sexy… To him, you get people in the door by if they look in and say 'That's interesting'," store manager, Michael Reyes said.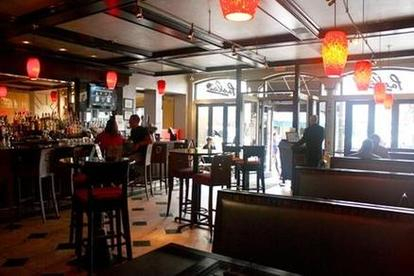 The restaurant's main seating area expands with an elevated area towards the back. Paolo's also features an airier patio- like setting with large, open window frames that link to the outdoor seating. The range in seating, in addition to the variety of dish options, caters to all: from the family seeking an afternoon lunch out, to the couple in search of a romantic dinner for two. The view looks onto the bustle of Georgetown's Wisconsin Avenue, a flow of culture as customers dine on the splendor of Paolo's unique dishes.
Paolo's prides itself on its freshness, a factor in part due to Tom Crenshaw, the restaurant's in-house chef. Crenshaw drives the restaurant's menu, largely inspired by his continuous research to maintain the quality of his cooking. Notably, Paolo's, which makes 98% of its ingredients in-house, recently started producing their own ricotta cheese. "I don't know if Tom wasn't here if something like that would be possible or even thought about," Reyes commented.
As for signature dishes? Now that's one Paolo's knows a thing or two about. While the Cal-Ital restaurant updates about 75% of its dishes with the change of season, the traditional dishes are mostly set to stay. Take the Tortellini Rose: a dish with gorgonzola, stuffed tortellini, sun- dried tomatoes, rose sauce, roasted mushrooms and a dollop of pesto. Favoring a seafood fancy? Try the shrimp Scampi, a seafood dish featuring five jumbo shrimp and capellini pasta with scampi butter with fresh saffron, herbs and spices. And for the cherry on top, taste Paolo's Fried Calamari- a touch of spice, a tad of sweetness and a squeeze of citrus.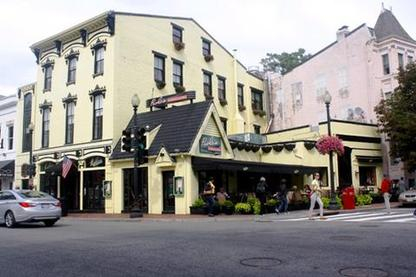 Paolo's features a range of special deals throughout the week; Wine down Wednesday (4:00 pm- 1:30 am) offers half priced bottles of wine, excluding champagne and sparkling wine. Monday through Friday happy hour provides great deals, including a glass of red and white wine for $3, house beer for $3 and quality, good portion food from $4-6. The Saturday and Sunday Early Bird special (11- 1 am) offers $8 meals for any dish that includes eggs. And of course, Sunday's Bloody Mary bar offering anything but the ordinary Bloody Mary: twenty hot sauces, horseradish, a variety of vegetables and a range of different tomato juices are all on offer.
With more than 20 years of experience under its belt, Paolo's understands the necessity of changing and developing with its clientele. "It's very rare to get a restaurant that has been open for 20 years," Reyes said. "I think the people in the area know tradition [and I] hope they… enjoy coming in." The key: cater to your customers while building off of the regulars. It's this mission the fresh, unique and sexy Cal-Ital restaurant has managed to hit upon, a determining factor in its lengthy span on the corner of N and Wisconsin Street.
Paolo's has locations in both Georgetown and Reston, Va. Visit www.paolosristorante.com for more information.