Free Expo Italiana Showcases Tastes, Sounds & Products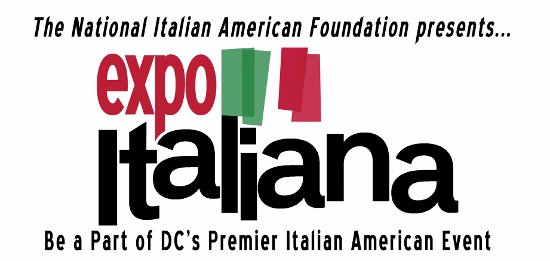 To celebrate its 40th birthday, the National Italian American Foundation (NIAF) is bringing back the popular Expo Italiana. On Saturday, October 17, Expo Italiana will showcase Italian food and specialties, wine, fashion and culture, as part of the foundation's 40th Anniversary Awards Gala weekend.
Mark your calendars: Expo Italiana – free and open to the public -- will be held at the Washington Marriott Wardman Park Hotel, in Exhibition Hall C, from 9:00 am. to 4:00 pm.
David Greco owner of the famous Mike's Deli of Arthur Avenue in the Bronx, N.Y., will prepare old-fashioned sandwiches and Italian specialties as a complimentary lunch for all guests.
Vendors will present new Italian brands as well as top-of-the-line products from Italy in pop-up boutiques. See the latest Italian luxury cars; sample Peroni Nastro Azzurro beer, enjoy espresso at Lavazza Café; sip limoncello, one of Italy's most popular liqueurs; and indulge in Dolce Gelati.
There will be an exciting auction preview during Expo Italiana. Guests can bid on vacations in Rome and along Italy's Amalfi Coast, including Sorrento, or take home the latest Ferragamo handbag. For book lovers, a collection of illustrated books published by Rizzoli, including "Giorgio Armani," written by fashion designer; "Maserati: The Evolution of Style" and a library of Italian cookbooks from The Silver Spoon Kitchen donated by Phaidon, will be available to take home.
Pinstripes of Georgetown also will set up an indoor bocce court with demos, instructions and celebrity games. Children and families are welcome to join the fun. There will be face painting; Italian story time; folklore dance performances and presentations; a sing along and live music to dance throughout the day.
Italian artist and Italian language educator Simona Rodano will appear at 2 p.m. as La Fata Italiana (The Italian Fairy), and present a musical learning program for children. The fun, interactive performance will teach Italian language and culture through song and dance.
Special to the event is NIAF's Exhibit of Italian American Culture and a photographic exhibit showcasing the life in southern Italy. Guests can also learn about Italian dual citizenship, genealogy, language and travel programs.
NIAF is also hosting a wine tasting for lovers of Italian wines alongside the expo and later in the afternoon, at 1:30 p.m. Enjoy a special wine tasting and antipasti with a sommelier. The ticketed wine event is $150.
For more information about Expo Italiana, contact Stephanie Gordon at 202-939-3107. For the ticketed NIAF Wine Tasting & Antipasti, contact Xavier Atizol at 202-939-3100 or for events and ticket information for NIAF's 40th Anniversary Awards Gala Weekend, visit www.niaf.org/40
The National Italian American Foundation is a non-profit organization dedicated to preserving and promoting the heritage and culture of Americans of Italian descent.