Frédéric Bazille and the Birth of Impressionism at National Gallery of Art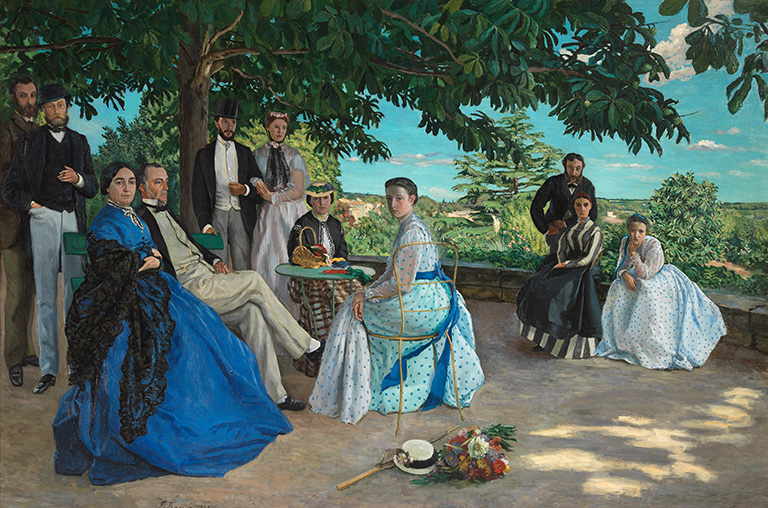 Through July 9, 2017, The National Gallery of Art is hosting an exhibition of the birth of Impresionist Art in the East Building, Concourse 1.
A scion of a Protestant upper-middle-class family from Montpellier in southern France, Frédéric Bazille (1841–1870) seemed destined for a career in medicine. In 1862 he traveled to Paris, ostensibly to pursue his medical studies, though he also enrolled as a student in the studio of the painter Charles Gleyre. It was there that he met fellow artists Claude Monet, Auguste Renoir, and Alfred Sisley, even sharing studio space with both Monet and Renoir at times. He soon became part of a dynamic circle of avant-garde artists and writers that included Édouard Manet, Henri Fantin-Latour, Émile Zola, and Zacharie Astruc. Like his friends, Bazille created paintings inspired by contemporary life that challenged the aesthetic conventions of the day and helped to lay the groundwork of impressionism. Unfortunately, Bazille was killed in battle during the Franco-Prussian War, just prior to his 29th birthday, bringing his promising career to an abrupt and tragic end.
Because of the brevity of his career, the limited size of his extant body of work, and his absence from the impressionist exhibitions mounted after his death, Bazille remains a relatively unknown and underappreciated figure. This exhibition is the first major presentation of Bazille's work in America in a quarter-century and brings together some 74 paintings (and two sketchbooks) from private and public collections in the United States, Europe, and Japan. Paintings by Bazille are exhibited alongside key works by the predecessors who inspired him—including Théodore Rousseau and Gustave Courbet—and by the contemporaries, such as Manet and Monet, with whom he was closely associated. Such juxtapositions underscore the extent to which Bazille actively engaged with the most significant pictorial issues of his era: the revival of the still-life form, realist landscapes, open-air figural painting, and the modern nude. Drawing inspiration from the vibrant cultural life of Paris, as well as the sun-drenched environs of his native Languedoc region to which he returned again and again, Bazille crafted a style of painting that was distinctly his own.
In preparation for the exhibition, an extensive campaign of restoration and technical study was carried out. With the help of the Center for Research and Restoration of the Museums of France (C2RMF) and the laboratories at the National Gallery of Art and other American museums, nearly half of Bazille's known works have been x-rayed, leading to the discovery of a dozen erstwhile compositions hidden beneath the current paint surface—most notably, Young Woman at the Piano, Bazille's first submission to the Paris Salon, which until now had been presumed lost or destroyed. This research has shed new light on Bazille's artistic practice and the true extent of his oeuvre.
The exhibition is organized by the National Gallery of Art, Washington; the Musée Fabre, Montpellier; and the Musée d'Orsay, Paris
Passes: Admission is always free and passes are not required.