Four Seasons Hotel Supervisor Builds School in Congo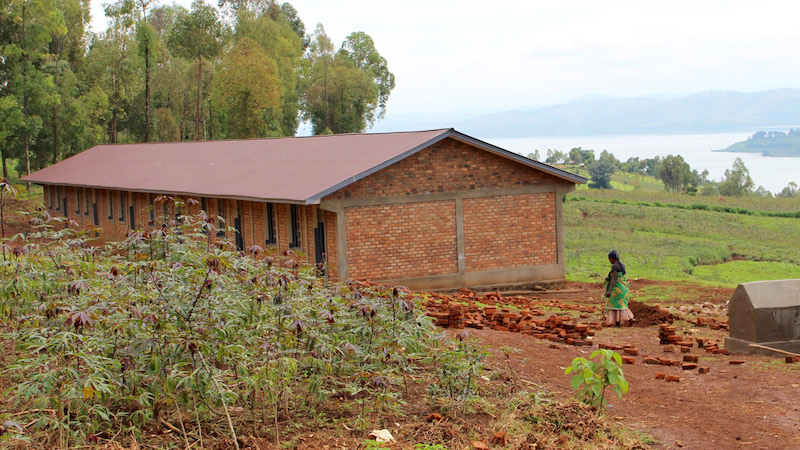 Four Seasons Hotel Washington, DC Security Supervisor Them Nyamunongo was awarded Outstanding Lodging Employee of the Year by The Hotel Association of Washington, DC (HAWDC).
*/
"On behalf of all of us at Four Seasons Hotel Washington, we are overjoyed to see Them recognized as Outstanding Lodging Employee of the Year by HAWDC," said David Bernand, General Manager during their annual Stars of the Industry luncheon and awards ceremony. "He is an
exemplary hotel professional. His love for the industry, his passion to serve, his compassion for his teammates and his desire to give back to the community, both locally and in his home country, are commendable."
Nyamunongo was born and raised on Idjwi Island, a small island on Lake Kivu near the border of Rwanda on the eastern edge of the Democratic Republic of Congo (DRC). Education has always been an important aspect of Nyamunongo's life, starting at an early age. His father instilled in him that education was the key to mapping out one's own destiny, and constantly pushed him to advance in this area whenever he could.
Since educational opportunities on Idjwi Island were limited, Nyamunongo travelled to Paris, France where he continued his university studies, earning a Bachelor's Degree in Business Economics from Paris Nanterre University. However, even after he graduated, his thirst for knowledge persisted. Nyamunongo moved to the United States in 1999 and enrolled at the University of Maryland University College, where he earned a second Bachelor's Degree in Homeland Security, as well as an Associate Degree in Computer Science.
After graduating in 2000, Nyamunongo joined Four Seasons Hotel Washington, DC as a Housekeeping Floor Attendant. He has found his "home" in the Security Department and assists the Director of Security with the daily operation and administration of the department. He also serves as senior security leadership during times when the Director is not present.
"Working for 18 years for Four Seasons has taught me the importance of attention to details and giving back," says Them Nyamunongo. "I've also learned to love everything I do and to put my heart and soul into it. No matter how small the task at hand may be for me, it might mean the world to our guests."
While he was on Idjwi Island for his father's funeral, he noticed that the educational opportunities were still severely limited. He also noticed that "there was a gender gap in primary school enrollment. Schools had less than 20 percent of girls enrolled," states Nyamunongo. "Girls were removed from school to harvest crops, fetch water and care for their siblings."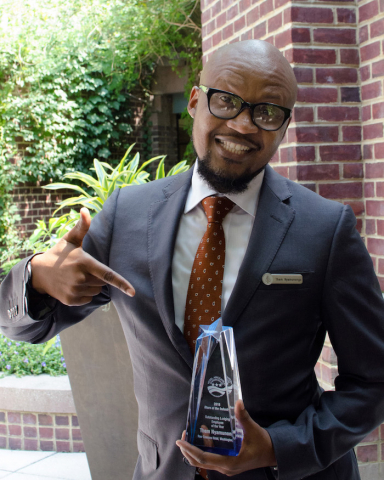 After returning to the United States, Nyamunongo was informed that his father had left him a large piece of land on the island. He and his wife have always felt deeply about giving back, and decided that they wanted to use a portion of that land to enrich the community where they grew up. They decided to build and operate a school, both to honour his father's legacy and to share the value of education, which was so central to their own personal success. At that point he "made a commitment to narrow down the gender gap after the new school was built," expresses Nyamunongo.
Nyamunongo and his wife created a non-profit organization called the Idjwi Island Education Fund (IIEF). They assembled a board of dedicated professionals and spent seven years fundraising and collecting private contributions from their families and the local communities in both Washington, DC and Congo to raise more than USD 110,000. The Ecole Primaire Buhumba School (E.P. Buhumba) was built from the ground up, and Nyamunongo was heavily involved with the construction and oversight.
E.P. Buhumba opened in April 2017 and immediately experienced enormous success. It currently provides classes for more than 400 children on the island. Currently there are "45 percent of girls enrolled at the school," says Nyamunongo. In fact, it has become so popular that to supply the educational demand, they have had to start running classes in two shifts, morning and afternoon. "I am also happy because kids are making it through to secondary school," he states. Additionally, many adults are also taking adult classes offered at the school to further their own education.
In reference to this endeavour, renowned global health expert Dr. Annie Sparrow of Icahn School of Medicine at Mount Sinai visited the school in August 2017 as part of a pilot child health assessment at IIEF's newly renovated E.P. Buhumba. Dr. Sparrow has held up the Idjwi Island Education Fund and the school as a rare model of successful collaboration, as opposed to the "typical" top down approach that doesn't adequately accommodate the local needs. Nyamunongo is most proud of this successful collaboration. Dr. Sparrow will be returning to the school again this August to further assess the children's medical needs.
Nyamunongo is fluent in French, Swahili and English. These language skills, combined with his world travel, social connections and experience has made him an invaluable asset in dealing with the myriad foreign delegations hosted by the Hotel, particularly those travelling from Africa. He is highly respected by the security team, Hotel staff and management.
In his spare time, Nyamunongo enjoys travelling with his family, practicing yoga, and photography. In keeping with his love for giving back, he also regularly volunteers his time to participate in Hotel fundraising efforts such as Race to Beat Cancer 5k and Thanksgiving on the Mayflower to benefit the local Washington, DC community.
To learn more or to donate about IIEF visit Idjwi Island Education Fund or Global Giving Foundation.