Food Assistance Needed for the Hungry in America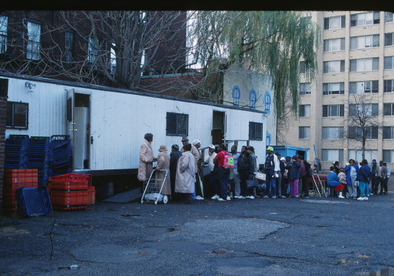 To call attention to hunger in America, Bread for the City and the U.S. Department of Agriculture partnered on January 6. Bread for the City provides food, clothing, medical care, housing assistance, job readiness training, and other essential services to over 31,000 needy people in Washington, DC each year.
Kevin Concannon, USDA Under Secretary for Food and Nutrition Service and Anne Alonzo, Administrator for the Agricultural Marketing Service joined George Jones, CEO, Bread for the City, and neighborhood volunteers at Bread for the City's Food Pantry. Concannon, Alonzo, and Jones hosted a national media conference call discussing the importance of food assistance programs such as the Supplemental Nutrition Assistance Program for low income individuals (SNAP), The Emergency Food Assistance Program (TEFAP) which gives food to organizations to distribute to local households, Women Infants & Children Program (WIC), serving pregnant women and their babies, and school meals in preventing hunger. USDA's Food and Nutrition Service (FNS) oversees the administration of 15 nutrition assistance programs. These programs serve one in four Americans over the course of a year and work together to form a national safety net against hunger. Visit www.usda.gov for more information about USDA nutrition assistance programs.