Foggy Bottom Raises the Bar on Outdoor Sculpture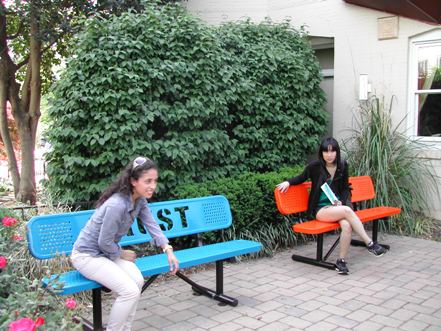 The award-winning Arts in Foggy Bottom Outdoor Sculpture Exhibit opened for its third season in the Foggy Bottom Historic District on Saturday afternoon. Sculpting Outside the Lines, this year's theme, is the inspiration of curator, Laura Roulet, who worked with founders and co-directors of the exhibit, Jackie Lemire, Jill Nevius and Mary Kay Shaw to create another distinctive display of public art for the neighborhood.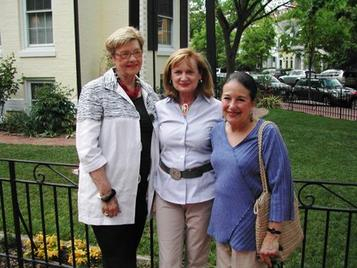 What began in 2008 as an effort to introduce sculpture into the community and bring neighbors together has evolved into a professional production with self-guided cell phone tours, artist-guided tours, maps, and more. Now in its third cycle with eight sculptures designed exclusively for the event, the show has the ability to match each sculpture with an appropriate outdoor space.
Sculpting Outside the Lines showcases 13 sculptures by 15 artists, most of whom are nationally recognized. The exhibit is the showcase for cast concrete angels by Dan Steinhilber who has had solo exhibitions at the Hirshhorn Museum and Sculpture Garden and the Baltimore Museum of Art. Barbara Liotta, who recently showed at the Phillips Gallery as part of Intersections, will create a large-scale site-specific work. For the first time, new media is included such as a projection by Jefferson Pinder, whose exhibits include the Smithsonian's National Portrait Gallery and the Studio Museum of Harlem. Joseph and John Dumbacher, locally renowned for their solo exhibit at the Corcoran Gallery of Art, will install a 13' aluminum abstract sculpture. Dalya Luttwak's recent solo exhibitions include the Kreeger Museum, Washington DC. She will create a site-specific suspended "root work." The other artists featured are Linda Hesh, EH-CO, Yukiko Nakashima, Foon Sham, Lina Vargas de la Hoz, and local graduate students Patrick McGowan, Adam Nelson, Blake Turner, and Peter Lee who will present three new media works.
Sculpting Outside the Lines engages the community by expanding the boundaries of traditional outdoor sculpture, exploring the discourse between public and private in an active social space.
The exhibit can be seen in the yards of homes and businesses between 24th and 26th streets NW and H and K Streets. Self-guided tours are available on the web site or by picking up brochures that will be available at each of the sculpture sites. Artist-guided tours will be held on the third Saturday of each month at 11:00 am originating at the corner New Hampshire Avenue and Eye Street NW.
Arts in Foggy Bottom with its inaugural outdoor sculpture exhibit won the Mayor's Arts Awards for "Innovation in the Arts" in 2009. It is funded by The Foggy Bottom Association Defense and Improvement Corporation. For more information, visit Foggy Bottom Association.
By Robin Jones, a marketing and style consultant.