The Fog of Debt? Georgetown's Bob Woodward presses Geithner for answers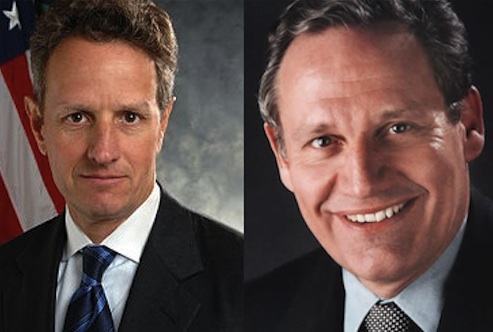 Georgetowner and legendary Watergate reporter Bob Woodward turned the screws on Timothy Geithner when the baby-faced Trez-Sec told a financial, political and media audience at the Newseum Wednesday said he is confident that the debt ceiling will be raised and that no contingency plan is needed. The GOP opposition, he said, is just "political theater."
But is Geithner just as confident that Woodward isn't writing a new book? Woodward's Obama's Wars published last year painted a portrait of a president sharply at odds with the military and deeply ambivalent about the war in Afghanistan.
Would Geithner like to play the starring role in an upcoming tome on the financial crisis?
Errol Morris produced The Fog of War about Robert S. McNamara. So what: McNamara went to Harvard: Geithner to Dartmouth. McNamara, once head of Ford Motor Co., headed the World Bank. Geithner, whose mother worked at Ford, worked at the IMF. Geithner was speaking at a Playbook Breakfast hosted by POLITICO on Wednesday. "I think we have a very good chance of [raising the debt limit], and on the basis of what I've seen in these negotiations, I think you're seeing a fair amount of pragmatism, openness, recognition that that's the right thing to do," Geithner said. But Woodward, taking copious notes unlike other guests, asked the Trez-Sec whether he had a Plan B. Geithner said no such plans were needed. "The United States will never default," he pronounced. "It's not a credible negotiating strategy, and it is not going to happen," Geithner said, according to Politico.
Politico star Mike Allen hosted the event, while the indefatigable Woodward pressed for more. Geithner repeated his answer with a tight smile, while lauding the success of the highly controversial Troubled Asset Relief Program (TARP). On other topics, Geithner, a former IMF official, said he isn't in a position to comment on the arrest of Georgetown resident and former head Dominique Strauss-Kahn on assault charges.