Flood-Damaged Restaurants Set to Reopen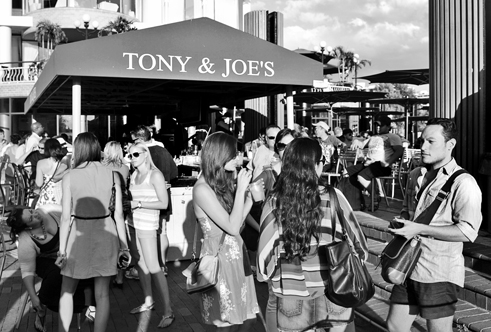 By Ally MutnickCurrent Correspondent
Three restaurants at Washington Harbour are preparing to reopen after the spring 2011 flood that covered parts of the K Street complex in 10-plus feet of water.
Tony and Joe's Seafood Palace and Nick's Riverside Grill are expected to fully open at the end of this week, and Farmers and Fishers plans to reopen as Farmers Fishers Bakers at the end of October. All three closed after an April 2011 storm during which MRP Realty, the company that manages the complex, raised only three-quarters of the floodgates that block the establishments from the Potomac River.
Nick Cibel, whose family owns both Tony and Joe's and Nick's Riverside Grill, said the flood was devastating, but he and his relatives have made the best of the situation.
"It was complete destruction at both restaurants, and everything had to be thrown away and rebuilt," he said. "We are taking full advantage of that by reinventing ourselves. We want to be known by our food, not just the waterfront."
Cibel hopes to shift the focus by hiring a new chef, David Stein, who he calls a gem, noting that his former restaurant, Bistro St. Michael in St. Michaels, Md., received a 27 out of 30 rating from Zagat.
Both Joe's and Nick's have been operating with outside seating and a reduced menu since about a month after the flood, while the interiors have undergone renovations. Tony and Joe's has an updated design that allows for a wider, unobstructed view of the river. Nick's Riverside Grill's square footage has increased by 25 percent, and the restaurant will carry more international cuisine.
The owners had to lay off about 100 employees but were able to hang on to the 50 who had been with them the longest. Cibel's family renegotiated the lease and worked with Washington Harbour so insurance covered 85 percent of the about $5 million needed to rebuild the restaurants.
"It's been a long year; I'm not going to sugarcoat it," Cibel said. "In the long run it was the absolute best thing that could have happened."
The owners of the former Farmers and Fishers feel the same way.
The establishment was hit hard by the flood: Three hundred people lost their jobs, and the owners used some insurance money to rebuild. But they also took the opportunity to come up with a new concept for their establishment.
"It's a brand-new restaurant," said spokesperson Jennifer Motruk Loy. "We were able to design the restaurant we really wanted because we started with a blank space."
Farmers Fishers Bakers will have a completely new design. A large entrance will lead into a bar area, which will have a sushi bar on one side and a large pantry on the other, with fresh vegetables and breads. An open-studio bakery will waft the smell of fresh pastries toward customers as they walk in.
The restaurant will let patrons choose their own type of dining experience; they can order a typical meal with courses, choose any of the buffet options or do a combination of the two.
"There's a great variety," Motruk Loy said. "It's the idea of uncomplicated, unstructured, fun dining to what suits your mood."
Last year's flood also allowed an opportunity to renovate Washington Harbour more broadly. MRP Realty kicked off a $20 million face-lift of the site this spring, which includes converting the central fountain into an ice-skating rink in the winter.
"Overall it's going to be a very family-friendly year-round destination," said Julie Chase, spokesperson for MRP Realty. "It's really going to draw all ages."
MRP has also purchased a forklift that can raise the flood walls in less than an hour. Previously, the firm had to call a company in Laurel, Md., to raise the gates, a process that could take up to seven hours.
"We should never have a problem with flooding again," Cibel said.
Although employees from some of the establishments affected by the flood attempted to sue MRP Realty for damages, Cibel and Motruk Loy said their restaurants did not sue. MRP could not comment on the status of the lawsuit.
Cibel said MRP was very supportive of the rebuilding and insists there are no hard feelings. "It was a mistake, a human error," he said. "I don't like to say anything negative about the company because they've been really terrific through it all."
This article appears in the Aug. 15 issue of The Georgetown Current newspaper.