First Lady Michelle Obama announces veteran hiring initiative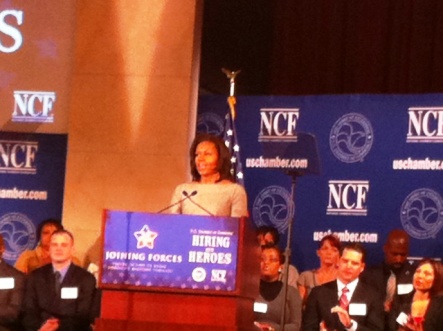 First Lady Michelle Obama announced "Operation Enduring Opportunity" this morning at the International Franchise Association (IFA) Veterans Day event held at the U.S. Chamber of Commerce in Washington, D.C. The announcement, part of the White House Joining Forces Initiative, represents the largest industry veteran hiring commitment to date.
"As tens of thousands of service men and women return from deployment in Iraq, Afghanistan and Southwest Asia, expanded opportunities are needed to ensure that veterans and their families are able to transition into the civilian economy. With its rapid training opportunities, defined structure and systems, and need for operational excellence, franchising provides an ideal structure to enable returning veterans to become leaders of and productive participants in the U.S. economy," said IFA President & CEO Steve Caldeira. "We encourage all franchise businesses, including franchisors and franchisees, to answer the call to offer jobs and career opportunities to veterans, wounded warriors and their families. Not only is this critical for the economic and social stability of veterans and their families, but it is an important component of the U.S. economic recovery."
Veterans have a proven track record of success in franchising. According to a recent study based on U.S. Census data, there are more than 66,000 veteran-owned franchise establishments in the United States, providing jobs directly for 815,000 Americans. Over 2,100 veterans have become franchise business owners through the IFA's VetFran program
Specific hiring and recruitment targets by franchise businesses will be posted at www.VetFran.com.