Financial Times launches new editor, with spring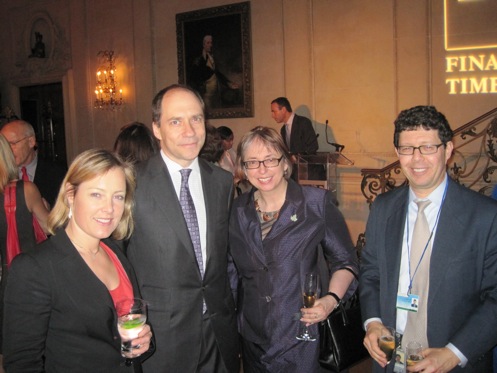 As if the Royal wedding weren't already setting the bar way high for standards of entertaining, along comes the Financial Times' rollout of Washington Bureau Chief Richard McGregor at the stately Anderson House on one of the first balmy evenings of spring.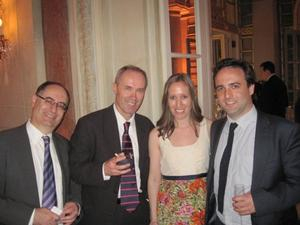 Thumb-sized lobster rolls, sweet and savory sushi and summer rolls, Manhattans and champagne with a blush amid the marble mosaics and frescoes.... Did it have to be so perfect?
Yet FT Editor-in-Chief Lionel Barber offered sober (not irrationally exuberant, thank you) remarks as former Fed chief Alan Greenspan sauntered in, flanked by a smiling Andrea Mitchell and a shimmering Sally Quinn. In fact, Barber told major media execs like Marcus Brauchli of the Washington Post, the FT's US Managing Editor Gillian Tett, The Economist's Peter David (a Georgetowner), NBC's Richard Wolffe and Marketplace's John Dimsdale, among others, that Washington needs to, well, raise the bar not on entertaining, but governing.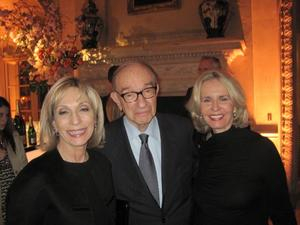 "I know that the world really does revolve around Washington and that the story of the year is the budget and whether or not you can get a deal that will comfort the financial markets," he said, teasing a bit. But seriously, he said, the $13+ trillion U.S. debt is a threat facing the world. "This story has been widely watched -- in London, in Seoul, Delhi and Beijing," said the Oxford graduate who read Modern History. "They're all asking, can America do it this time or not?"
Barber described a recent meeting with an unnamed Chinese Communist Party official on the mainland. "He looked straight at me and said, 'You're debasing the currency. You need to deal with your debt.'" Attempts by Barber to clarify his nationality did not help.
"You know a lot of Americans," the official scolded.
The Chinese, wagging fingers on currency?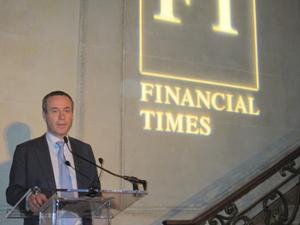 "Just then I realized I could have been talking with a member of the Tea Party," said Barber. The mostly media gathering of 150 appreciated the laugh.
American Council for Capital Formation's Mark Bloomfield stayed with the theme, sort of, in a USA Today op-ed perfectly timed for this soirée. "Edmund Burke, the British statesman, wisely said, 'To tax and to please, no more than to love and be wise, is not given to men,'" Bloomfield wrote, saying the tax code needs to be simplified to raise more money and be more fair.
If there's anyone who can figure this mess out, she or he was probably at Anderson House: Bill Galston of Brookings, Jim Kessler of Third Way, Minister Deanna Horton of Canada and Douglas Rediker of the IMF (a Georgetowner), as well as respected FT reporters like Tom Braithwaite.
Bureau Chief McGregor, an Aussie, previously served as Beijing chief and Shanghai correspondent for the FT. Prior to that, he covered Japan and China for The Australian and worked for the International Herald Tribune, the BBC and the Far Eastern Economic Review. Can he save Washington, too?
But wait. There were signs of hope in America -- brought to you by Americans -- on this lovely spring evening. Carol Joynt, looking like a model despite her recent cancer treatment, floated around the room with friend James Spellman. Media personalities Kiki Ryan, Nikki Schwab of the Washington Examiner, Susan McCue, NBC Nightside's Janet Donovan and Gibraltar Associates new COO Kelley McCormick -- the most graceful hostess on any continent -- made the evening sparkle.
It may not be morning in America. But gosh darn it, it ain't midnight either.