Final 'Jazz on the Lawn' at Grace Church Georgetown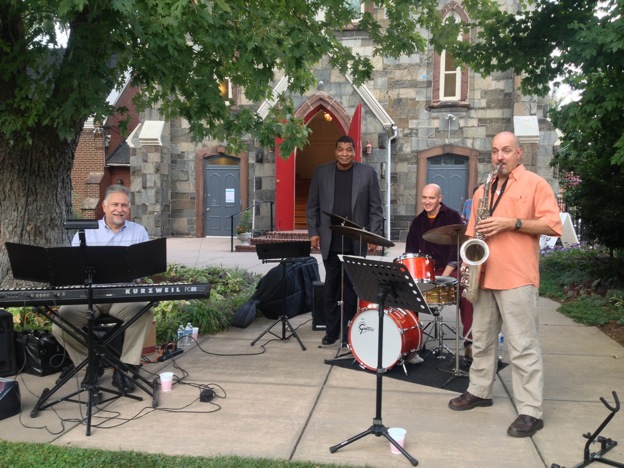 September 26 is the final "Jazz on the Lawn," from 6:00 to 7:30 pm, on the serene and beautifully landscaped Grace Church Georgetown lawn, 1041 Wisconsin Avenue. Last Thursday's performance by the Larry Brown Quartet, to which I brought several friends, was simply sublime.
"Jazz on the Lawn," held every Thursday in September, is an annual tradition at Grace Church Georgetown and on September 26, the final performance, Marshall Keys, alto sax; and Herman Burney, bass, will be playing. "Bring a picnic supper, a bottle of wine if you like, or just come - enjoy great jazz in a beautiful setting," says The Rev John Graham, Rector (Pastor) of Grace Episcopal Church. "There is no charge but donations are gratefully accepted," said Graham, one of the most popular ministers in the area, known for his dedication to helping the homeless, his open-mindedness, and his intellectual - yet spiritual - sermons.
Music on the lawn began in the summer of 2009, and Grace has offered it every year since. It has two purposes: to feature top-flight local musicians, with a special emphasis on jazz, and to introduce the neighbors to Grace Church by inviting them to enjoy the beautiful gardens and grounds.
Grace Church was founded in 1866 by Christ and St. John's Episcopal Churches, Georgetown, as a mission to the dock workers and canal workers of lower Georgetown. "As the neighborhood of lower Georgetown changed, so has Grace," said Graham, "But it's kept its focus on the least among us. The informal, welcoming atmosphere that's characterized this community from the beginning."