Fillmore Arts Again Facing Budget Cuts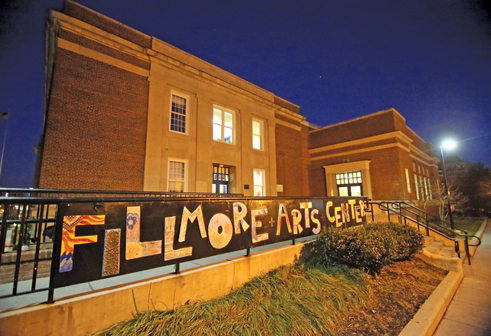 By Cuneyt DilCurrent Correspondent
The communities of five Northwest elementary schools are scrambling to undo a nearly $600,000 budget cut to Fillmore Arts Center that would spell an end to the long-standing program.
D.C. Public Schools says the city spends double the amount per pupil compared to other schools to continue the program, which serves 1,700 students from Key, Ross, Marie Reed, Hyde-Addison and Stoddert elementary schools. The students are bused every week to the arts center in Georgetown to take classes in arts, drama and music.
Two dozen parents and school members huddled last Tuesday at a Friends of Fillmore meeting to strategize opposition. As of yesterday evening, over 1,000 people have signed a change.org petition calling for the program's funds to be restored. And supporters have some initial backing from D.C. Council members.
"I'm going to continue to work with the mayor and the deputy mayor [for education] to see whether we can get that reversed," Ward 3 member Mary Cheh told The Current.
A spokesperson for Deputy Mayor for Education Jennifer Niles didn't respond to requests for comment, but Cheh said Niles told her that Fillmore's original model — founded in 1974 to provide an arts curriculum to schools without one — no longer makes sense with the school system's modern strategy of providing arts funding to individual schools.
Ward 2 Council member Jack Evans has also expressed support for the Fillmore cause.
"Fillmore is critical for the arts development of the students," Evans said, "and I support keeping it just like it is."
According to a D.C. Public Schools document obtained from the Friends of Fillmore, the city spends approximately $458 per elementary school student across the District for art and music instruction — compared to $1,149 per student to operate Fillmore.
"At one time, more schools participated in Fillmore, which made the program more cost effective," the document reads, billing it as an equity issue. "DCPS cannot continue to centrally support this additional, disproportionate investment at such a small number of schools. DCPS also believes in the value of arts instruction taking place in and becoming an integrated part of each school."
At-large Council member David Grosso, who chairs the Committee on Education, expressed support for Fillmore but said he hadn't fully examined the details yet.
Fillmore faced a similar close call in 2013. The community fought a $300,000 hit to Fillmore's budget, and Schools Chancellor Kaya Henderson late in the summer announced funding would be restored.
If the program is shut down, the five schools would build their own arts programs in house. Currently, the schools divert the funds that would be otherwise spent hiring arts teachers to fund Fillmore's operating costs. The schools pitch in $1 million for Fillmore's instructors, and the school system contributes $600,000 for Fillmore's director, three other staff positions and supplies.
"The schools participating in Fillmore during school year 2015-2016 may continue the program but only if the schools take on the full cost of the program within their budgets," the school system's document reads.
Aside from keeping the lights on at Fillmore, there is also the cost of busing students once a week to and from the center. John Claud, chair of Friends of Fillmore, says transportation costs have skyrocketed in recent years to about $600,000, also covered by D.C. Public Schools. But he blames it on a bus contracting service the city itself chose to use.
"We had these really nice, really expensive buses that we didn't really ask for," says Claud, a Stoddert parent. "The problem is … DCPS has ascribed those busing costs for one of the reasons it's so expensive this year to operate."
If Fillmore stays open next year, Claud continued, the program could save money by using yellow school buses from the Office of the State Superintendent of Education. "Those busing costs will go away next year, because the busing will be much, much cheaper," he says — just $250,000, according to D.C. Public Schools estimates.
School system spokesperson Michelle Lerner said in a statement the District intends to "continue with arts instruction in a school-based model" in the future. Under the city's proposed plan, the schools would receive funding for two arts teachers — except for Hyde-Addison, which would have funding for one-and-a-half — and a couple thousand dollars for supplies. But parents and the Friends of Fillmore group argue the result would be a much-diminished arts education from what Fillmore currently offers to students. They say that some of the schools, filled to the brim, don't even have the physical space left to add arts classrooms and curricula.
At Hyde-Addison, the situation is complicated by a modernization project that will shift students into swing space or trailers.
"There's a real space issue," Claud said. "There are other things that DCPS needs to consider other than just the bottom-line money costs."
Meanwhile, students at Ross Elementary are writing letters to Henderson asking for Fillmore to be kept open, according to a student submission to The Current.
"We all hope that Chancellor Henderson will listen to our letters and read this," wrote fourth-grader Ellen Lurie. "Maybe then, we won't be separated from what we love to do.
This article appears in the March 2 issue of The Georgetown Current newspaper.