A Few of My Fav Trends for Spring 2012!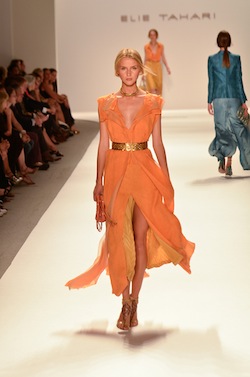 PASTELS
After several seasons of bold colors dominating the runways, pretty pastels are making a comeback. Sherberts, lemony yellows, cupcake pinks, these chalky colors are all the rage for S/S 2012.
From The Runway -
Tibi Spring/Summer 2012
Get Your PASTELS -
Alice + Olivia Side Drape Dress
Dorothy Perkins Apricot Silk Blazer
ON SAFARI!
Guests who attended Michael Kors S/S 2012 showing during New York Fashion Week last September were treated to a showing of some of the chicest looks one could pack to go on an African Safari. Many other designers followed this trend, making it another of of my fav trends for S/S 2012.
Michael Kors Spring/Summer 2012
Get Your SAFARI Look -
LADY LIKE
Feminine frocks with flowy hemlines, brooches, lace, A-lines and sweetheart necklines graced the runways for S/S 2012 collections. This is a forever trend that will never go out of style. Invest in lady like handbags, like the Christian Dior "Lady Dior" which is IMO a quintessential lady like staple piece for any woman's purse collection.
Milly Spring/Summer 2012
Elie Tahari Spring/Summer 2012
Get Your LADY LIKE
Beyond Vintage V Neck Lace Batang Dress
Christian Dior Mauve 'Lady Dior' Leather Bag
ASOS Blouse w/ Pleating and Lace Yoke
BRIGHT COLORS
Bright and bold colors are just down right fun to wear and this season many designers opted to color block with these traffic-stopping hues. You can also play out this trend in your make-up, with a bright pink or orange lip, but remember if you do decide to do this or color block with say a bright yellow top and a bold blue pant, keep everything else neutral and simple.
Tibi Spring/Summer 2012
Nanette Lepore Spring/Summer 2012
Get Your BRIGHT COLORS -
JCrew Cashmere Isabel Sweatshirt
Catherine Malandrino Silk Jumpsuit
Kara Ross Pisces in Electric Blue Satin Phython
SUNBURST ORANGES & GOLD
Two of my favorite colors are a huge hit for S/S 2012 - sunburst orange and gold, yay! Both colors looks great against a tan bod and compliment most any skin tone.
Elie Tahari Spring/Summer 2012
Tibi Spring/Summer 2012
Elie Tahari Spring/Summer 2012
Get Your Sunburst Orange and Gold -
XOXO
*All runway photos by - Vithaya Phongsavan*