Fenty defends Rhee, D.C. school reform at GU lecture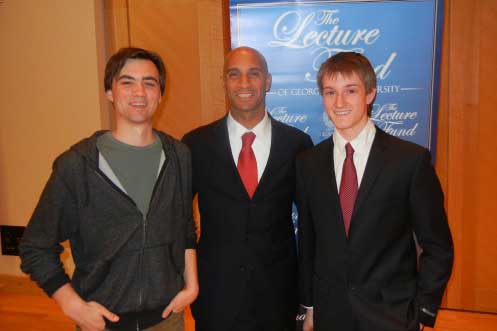 Former D.C. mayor Adrian Fenty brought his message of school reform to the Georgetown University campus Tuesday evening, strongly defending his selection of Michelle Rhee as chancellor and her record of measuring and rewarding success while making the system accountable, including layoffs of poorly performing teachers.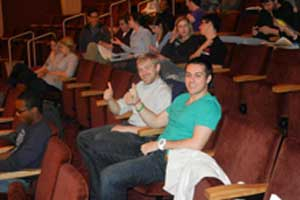 Fenty likened his commitment to education reform and willingness to "risk it all" to President Lyndon Johnson's pushing through civil rights legislation after his 1964 landslide. Johnson knew that "if he didn't get it done [now], maybe it would not get done" even though LBJ knew it would make him unpopular in the next election. "There's a lot more to being in political office than getting reelected," Fenty said, pointing to his own failed reelection bid last year despite polls showing that the electorate felt the city was headed in the right direction. He thought that he could make the "tough decisions [and] be judged on our successes."
The former Mayor's guiding philosophy was to recreate the "autonomy and independence" of the old one-room-school-house by "dismantling the [existing] behemoth systems" of bureaucracy, unions and political inertia.
In the Q&A, Fenty reiterated his position that school systems should "get did rid of unions completely [and it] needs to happen now" because parent can't wait the extra time and there are enough protections and accountability through the voters and their elected officials. However, "absolutely" he would learn from his mistakes and "do a better job" of talking to all sides in to tell the unhappy side that while we may disagree on this decision, there's always a next time and we'll "stay in touch."
During the Q&A a number of local issues came up, including one on doesn't MPD have "better things to do" than raid bars and enforce the new noise law? This elicited the first (and only) spontaneous applause of the evening, as the Mayor noted. He said, in general you "want them to be tough enforcers," but that it never hurts to make their views known to the "fantastic" MPD Chief Kathy Lanier.
In other responses, Fenty declined (for the moment) to make an endorsement in the at-large council race, said it was "too early" to pass judgment on his successor and revealed that he is for term limits for mayor but not for councilmembers because it's important to keep their "institutional knowledge." He also said that his lasting legacy is to make it impossible for a D.C. mayor to say "it doesn't come under my control" when asked about education.
The talk was sponsored by the student-run Lecture Fund which brings prominent speakers to the Hilltop.