Federal, D.C. Officials Recognize MLK, Jr. at IMPACT Event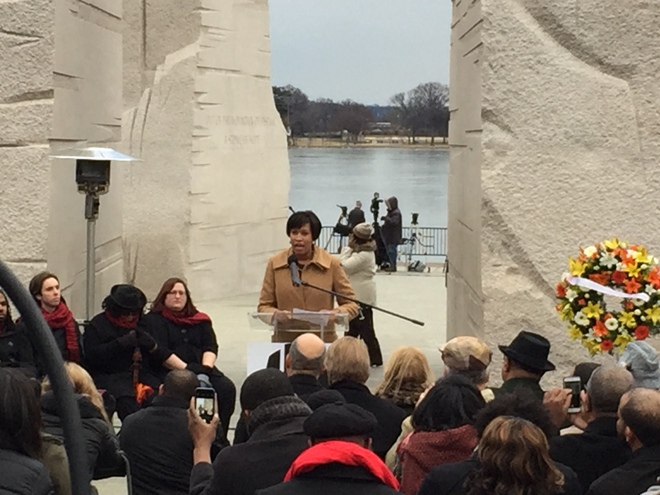 D.C. Mayor Murial Bowser joined federal officials including Interior Secretary Sally Jewell and Homeland Security Secretary Jeh Johnson at a series of weekend events honoring Martin Luther King, Jr., featuring a clean-up around the MLK Jr. Memorial and a wreath-laying honoring the civil rights leader's legacy.
IMPACT, a D.C. organization that engages young professionals of color in economic empowerment and political activities, hosted the events along with the MLK, Jr. Memorial Foundation and the Faith and Politics Institute. Addressing a group of 150 volunteers who gathered early Saturday morning weilding hoes, pruners and bags of mulch to help the National Park Service polish up the memorial grounds before the weekend's ceremonies, Jewell became emotional in speaking of King's legacy. "The Martin Luther King, Jr. memorial is halfway between the Lincoln Memorial and the Jefferson Memorial," she said, noting that King had advanced America's core principles of justice and equal rights. "But the work is not finished," she said, with tears in her eyes. "We have a lot to do in education and economic empowerment to make Dr. King's dream a reality."
Bowser, speaking for the first time at the memorial since becoming Mayor, noted King's youth. "He was called home when he was just 39," she said. Bowser emphasized the importance of youth in carrying King's legacy forward.
IMPACT, led by Director Brandon Andrews, is an organization that is helping to advance King's legacy with programs for D.C. youth. "We work with companies and governments to offer internships and jobs to get D.C. youth into the workforce," Andrews, who previously worked in the U.S. Senate and for Hand On/DC Cares, said. The group also encourages political engagement by D.C.'s young people, ages 18-40. The group will host a State of the Union Party Tuesday, Jan. 20, 8:00-10:00 pm at Busboys & Poets at 5th and K Sts. NW in Shaw.
For more information about IMPACT, click here.