Farmers Fisher Bakers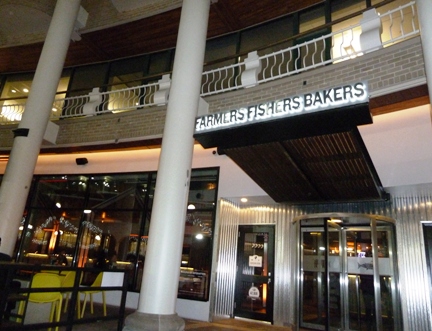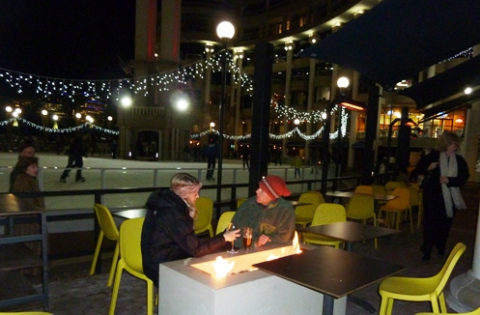 Come for the views, stay for the food. The North Dakota Farmers Union (NDFU) and The Farm, the restaurant management company behind Founding Farmers, has opened a new Georgetown restaurant called Farmers Fishers Bakers (FFB) in the spot that was formerly Farmers & Fishers, and prior to that, Agraria.
If you've been to Washington Harbour lately, you've seen the transformative power of an ice-skating rink with outdoor seating along the Potomac. At FFB, you can eat outside with your own private fireplace or be served at the Tiki Bar. As you enter the 9,500 square foot space and look around, you'll notice "Great views of something interesting from every seat. Aesthetics are vitally important… and being really comfortable," says Jennifer Motruk Loy, FFB's vice president of marketing.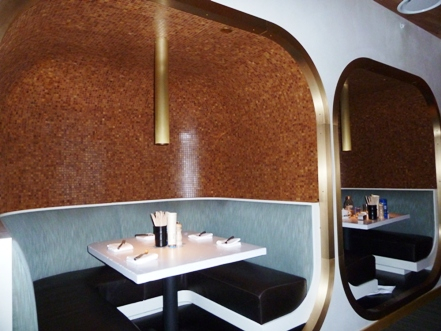 Divided into "micro-climate" areas, with the accent on climate control, you immediately see that the restaurant is divided with floor-to-ceiling window seating facing the ice rink, an eight-seat reserved Baker's Table room, railroad-style boxcar booths, ship cabin booths (acoustically-sound with carpet and individually-controlled lights), a central sushi bar, baking kitchen and even a special room where home-made pickles, jams and honey are stored in open view.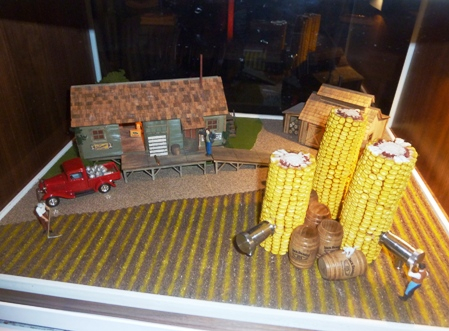 No detail is too small for the designers, as every inch connotes the "true food-driven" farm-to-table theme with architectural elements reinforcing transportation motifs at every turn. Très green with artisan carpets and plenty of reclaimed wood, there's even a wall with tire tread rubber covering. The decorative elements abound: from tables punctuated with hand-made dioramas of farm scenes to the specially made cutlery with food totems, and plates with one little red kernel of corn.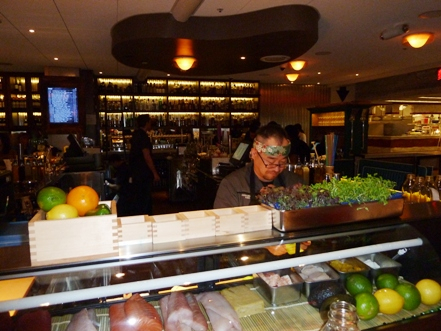 Ok, now to the food. There was a time when having indoor refrigeration and a working freezer were something to brag about. Not here. They have no freezers except for making ice cream and ice. Seriously. So there is no question about the freshness of your next meal.
The American menu, developed by Corporate Executive Chef Joe Goetze and Executive Chef Lisa Marie Frantz, is regionally diverse and intended for an 'unstructured' shared eating experience' From cocktails to "farmhouse sushi," pizza (remember they do their own baking on the premises), brunch or dinner the choices are uniformly fresh and inviting.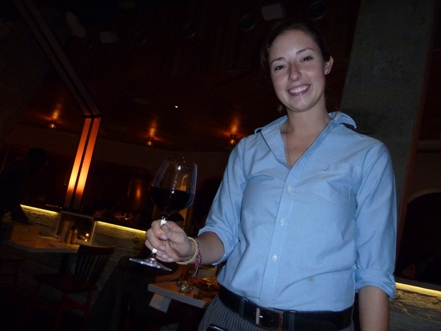 With the expert guidance of server Alex Dobbs we started with wine and Bread & Broth served with LOTS of butter garlic and romesco dipping sauces and consommé, a "play on mussels juice" and Baked Clam Stuffies.
Next, Chicken Carolina Jambalaya and Steak Frites with Farmers Whiskey Sauce, Fries, and Green Peas Confit.
For dessert, the Spiced Apple Crisp with Government Cheese Ice Cream. Bet you're wondering about the Government ice cream. The menu is chock full of capital city references, this one translates into minuet, a triple-cream goat cheese.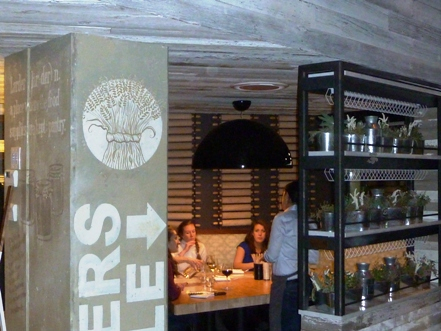 The restaurant is open for lunch and dinner with special holiday hours:
Christmas Eve – Monday, December 24Lunch / Dinner, 11:30am-10pm Sushi Bar, 4pm-10pm
Christmas Day – Tuesday, December 25Lunch / Dinner, 11:30am-10pm Sushi Bar, 4pm-10pm
New Year's Eve – Monday, December 31Lunch / Dinner, 11:30am-10pm Sushi Bar, 4pm-10pm
New Year's Day – Tuesday, January 1BRUNCH, 10am-2:30pm Lunch / Dinner, 3pm-10pm Sushi Bar, 3pm-10pm