Farm to Fork Dinner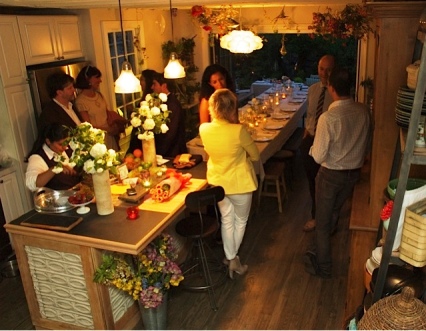 Friends and supporters of Hyde-Addison elementary enjoyed an enchanted summer-like evening while attending the "Farm to Fork" dinner catered by Loulies' Bettina Stern and Suzanne Simon at the newly renovated Georgetown home of Proper Topper owners Anna Fuhrman and Joe Kerr.
The dinner was a collaborative effort between Hyde parents Simon and Fuhrman and offered as an auction item at the Hyde-Addison auction last Fall. Ms. Simon and Ms. Stern advocate using fresh, local ingredients and write about cooking (among other things) on their lively blog Loulies. Ten lucky couples sampled fresh asparagus crostini and locally made sausage appetizers and then tucked into a dinner with influences drawn from Simon's recent trip to Mexico. Ms. Simon and her daughter hand pressed the corn tortillas for the dinner which were accompanied by simply grilled beef, mushrooms and a variety of tasty sauces as well as a big green and leafy salad.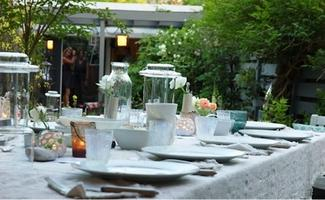 The Fuhrman-Kerr residence was turned into a candlelit fairyland with a long and dazzlingly decorated dining table straddling the kitchen and the garden giving the impression of emerging from Alice's rabbit hole into Wonderland. The gorgeous garden area, designed, built and cultivated by the owners will be on display for the Georgetown Garden Tour on May 5th.
Whether it was the herb infused cocktails, the sparkling conversation or the orange blossom soaps wrapped with a sprig of greenery given as mementos of the evening, the guests floated home through the starlit streets.