Farewell Town & Country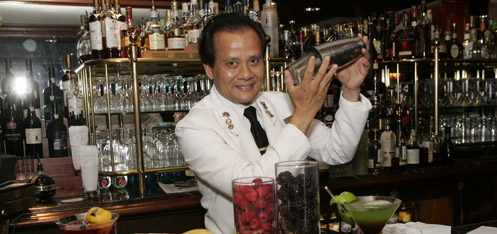 Nostalgia seekers, friends and D.C. residents paid farewell to the Town & Country Bar at The Renaissance Mayflower Hotel on Saturday evening, as the legendary watering hole of the Grande Dame of our nation's capitol served its last libations.
The hotel will be undergoing a substantial multi-million dollar redesign project that will result in upgrades of the lobby, restaurant, bar and retail outlets. The renovation will begin this month and is slated to be completed in the summer of 2011—but on this evening, the future gave way to the past as a multitude of guests packed the bar and sipped libations including bartender Sambonn Lek's signature Sam I Am Martini. We'll miss Sam's magic tricks and menu of 101 Martinis that guests have come to enjoy for the last 30 years of his reign behind the bar.
Spotted among the throng were Fresh 94.7's Tommy McFly and Nikki Schwab of The Examiner's Yeas and Nays along with the hotel's historian Keith McClinsey who handed our souvenir Town & Country coasters a remembrance of the evening.
The bar will become the new home of Thomas Pink -- a layout that recalls an earlier configuration of the hotel in which the retail space faces DeSales Street. The new Thomas Pink store will resurface with a fresh look similar to its prototype in London.
The area presently occupied by Thomas Pink will offer a new dining option with a restaurant and bar. In the past, the space near Connecticut Avenue was home to a coffee shop and several eateries frequented by FBI Director J. Edgar Hoover and President Harry Truman, who bestowed upon the hotel its nickname, "Washington's Second Best Address."