Family Ski Tripping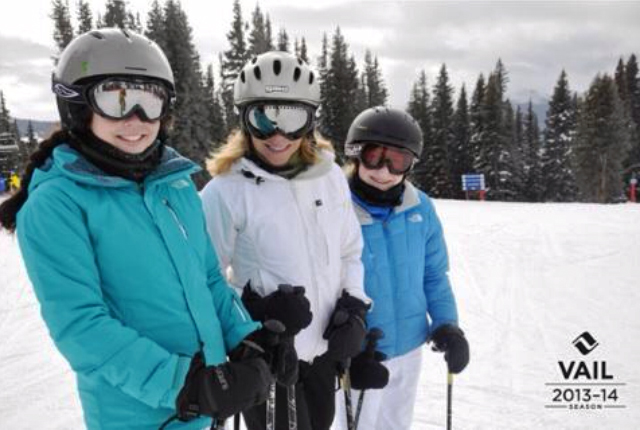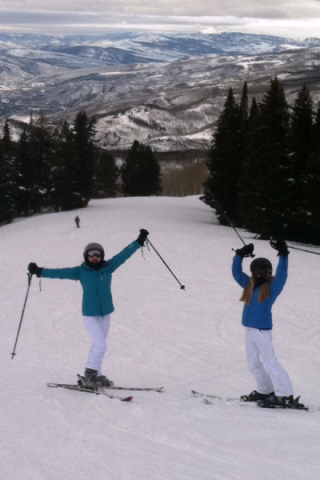 My daughters and I are snapping photos on our iPhones as we head up the Blue Sky Basin chairlift in Vail, Colorado. We chat about which run we're going to take. Katherine, 13, announces Blue Sky is her favorite part of the mountain. "I just love it over here," she says, taking in the fresh powder that had fallen the night before.
I inhale the crisp air, happy to be sharing my favorite sport with my two favorite people.
But getting to this happy place did not happen overnight. Less than ten years ago, the scene was quite different. At the entrance to ski school, Katherine, then four, falls to the floor in a heap of mittens, down and tears. "No, no, no!" she yells, gasping for air. "I don't want to go! I'm going to throw up!" (Threatening to throw up was one of her signature moves.)
I try picking her up, but she goes limp, arms flailing. People stare like they're watching a scene from Sophie's Choice. The little blond girl screaming and reaching out, as a man tries to lead her away. When I finally un-velcro her arms from my leg, handing her off to the young male instructor, my goggles are fogged from sweat and I can't peel off my Patagonia fast enough.
I remember wondering if skiing with children would ever get easier. The hassle of heavy equipment, lift lines, children who decide they need to use the bathroom after you've bundled them in layers of long johns, put on parkas, buckled boots and slipped on pink helmets over knotted hair and dangling barrettes. And we're paying to do this?
I thought about my own childhood and all the ski trips we took with my parents. Every Christmas, mid-winter and spring vacation, our family would pile into the Oldsmobile station wagon, unbuckled, and head up the turnpike to northern Vermont. My two older brothers and I bickered so much, my parents had to tape lines on the back seat to separate us. We'd take turns sleeping atop duffle bags in the "way back," while my mother read aloud from "Charlie and the Chocolate Factory" and "James and the Giant Peach." Along the way, we'd stop at those dusty, wooden-floored New England general stores to buy Fire Balls, Slim Jims and leaf-shaped maple sugar candies.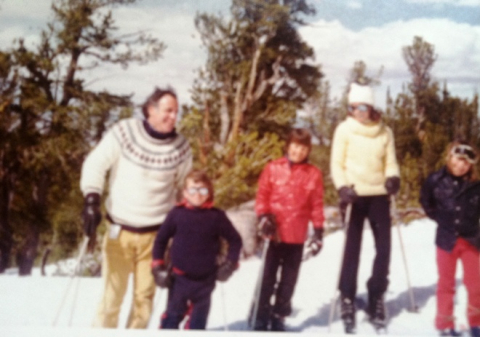 Unlike cushy Colorado, northern Vermont was all about blue ice and blue leather ski boots. I'd be in my older brothers' hand-me-downs (always navy blue or red), skiing between my father's legs. It's no wonder he later developed back problems. Some of the lifts then didn't have safety bars. I remember Dad putting his ski pole across our laps to keep us from slipping off the chair. Now there are safety bars and footrests. I can't imagine not having safety bars—especially when you see how close to the seat's edge children get. It's almost as if they're taunting their parents, purposely sliding forward, like slippery noodles, making us more nervous than we already are.
Once we graduated from ski school and were able to ski alone or with friends, skiing became an entirely new sport. We'd race down black diamonds, show off under the lift, create narrow paths through the woods that looked like undulating luge trails with speed bumps. Even the après ski scene was fun. (And the older we got, the more fun it became.) We'd hang out in the lodge, playing Pac Man, chewing Juicy Fruit and drinking hot chocolate laden with whipped cream.
I never thought for a moment about my parents and whether or not they were having fun. Until I had my own children.
I never thought the day would come that I'd be able to ski with my children without wiping runny noses, deflecting complaints, stopping for bathroom breaks. Now they have to stop for me.
"My hands are freezing. We need to stop for some hot chocolate," I tell them.
"Mom, you want to stop again?" Peyton asks.
"Come on, you can handle one more run," Katherine tells me.
"Sure, I can handle one more," I say, pinching myself that we've made it to this place.