Commentary
|
October 5, 2021
|
Family Flags of Reflection
White flags on National Mall in remembrance of those we lost due to covid.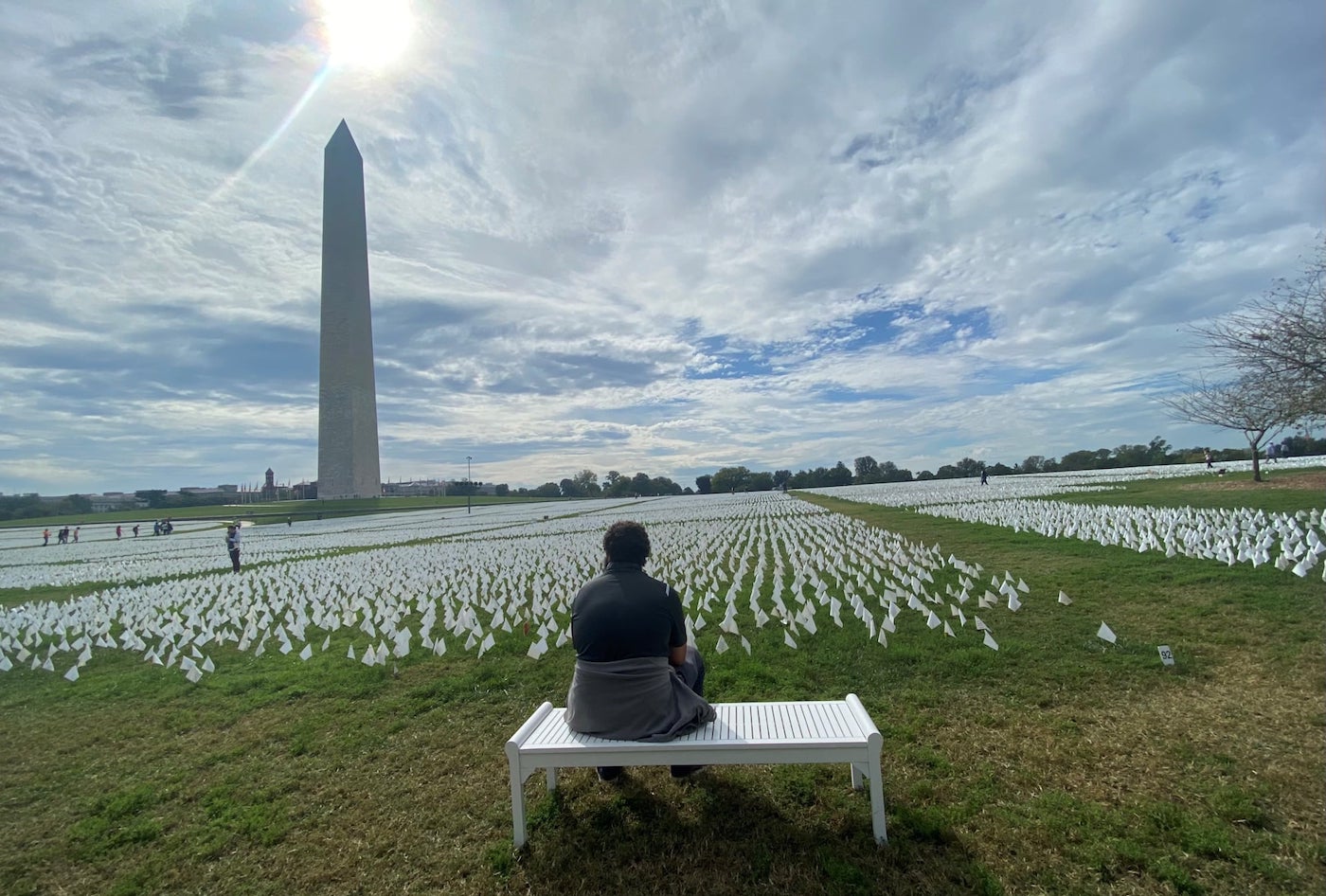 I ran out of the house this morning to Compass to pick up a quick cup of coffee - it's a half block from my house. I hadn't showered, brushed my hair. The streets were deserted. 
"Birthday coffee!' the email said. 'OK', I thought. What a nice start to my day. I'll be back in a few. 
I grabbed my coffee and headed back home and ran into the daughter of a good friend.  'Where are you going and happy birthday,' she said. We talked a bit, I turned around and somehow we ended up at the art installation at the National Mall a mile away. 
'It closed yesterday,' we said as we looked it up. 'Let's go see anyway.'
Image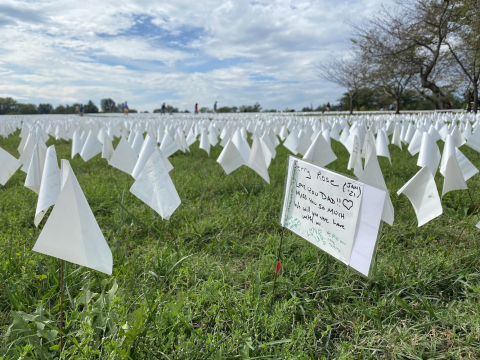 Today, the installation was being dismantled. We walked up to see volunteers pulling up the 700,000 flags - each of which represented a loved one that had died from Covid-19. 
The first person we saw was a young man named Cory.  He sat quietly on a bench, looking out at the vast number of flags. 
'Did you lose someone to Covid?' I asked after looking at names and inscriptions on a few flags.
'No,' he said. 'Thank goodness.  I'm a teacher at School Without Walls' here in DC. I've been bringing my classes here since the exhibit opened. I saw it at RFK, and when it moved here and went from 200,000 to 700,000 I thought it was important for my students to see it. 
'What do you teach?', I asked.
'PE and health,' he answered. 'This month, we're talking about mental health.' He talked about the banner which had total numbers of deaths in different countries. 'And New Zealand, and Australia, they stayed in the hundreds,' he said. 'And the US just keeps growing, the total number of deaths.'
We looked out at the vastness of the white flags. 
"We were here one day, the wind was blowing.  It's a 15 minute walk here, from our school.  My class stopped as we got close, the wind was blowing the flags in waves, they blended, sort of, into a body of water, a reflecting pool of sorts,' he said, motioning over the fields of flags.  
'The sky and clouds were reflecting in the sea of white flags,' he said, remembering.  
'It was beautiful, peaceful.  Quiet.'
He sat back on the bench a bit as his eyes traveled to his students, walking among the flags.
'I have a two year old daughter,' he said. 'She knows nothing else. At two, she grabs a mask before we go out the door.'
Image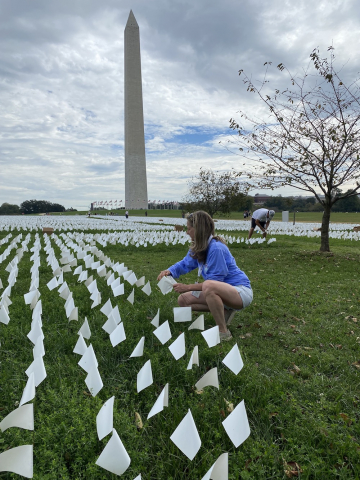 'We're all tired, covid fatigue at school. We're careful, we distance. We've learned a lot, all of us, about what's important. At my house, board games, dinner with family, talking more. But we're missing human interaction,' he said looking at his students. 'I'm hoping this will hold, being able to be out, to be in school, face to face.'
I stayed to help pull up the flags - it was very organized, in grids, recording all the flags with messages. I worked with Chris with purple fingernails from Provincetown. With a group from CBRE. Are you all family? I asked. 'Sort of,' one of the CBRE guys answered. 'We might as well be,' he said, smiling.  I pulled flags with members of a local law firm. With tourists.  
I had on a long-sleeved shirt, I didn't have a hat, I was out for a cup of coffee and ended up here at the National Mall, surrounded by an enormous number of people who were missed every day, who were cared about, who left families behind - each of whom would never celebrate another birthday. 
Image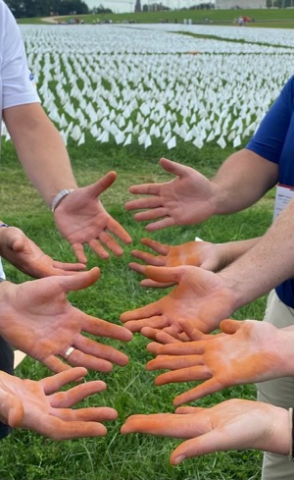 I walked home thinking about it, my hands stained with rusty dust from pulling the flags, feeling fortunate that I have not lost a family member or close friend in this pandemic, and also feeling fortunate that this birthday morning had brought such meaning.
Thank you all for your wonderful birthday facebook wishes, they are much loved and appreciated! What a beautiful day it was.