The Fairmont's Abuzz with Green Partners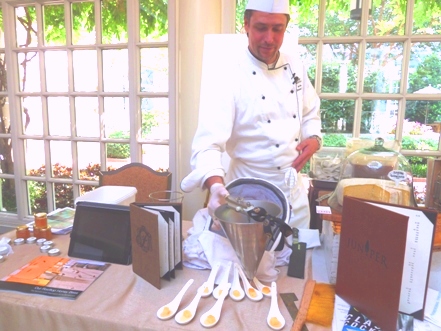 Casa Bella, Casa Blanca, Casa Bianca, Casa Bellisa and their 105,000 residents have been busy keeping Georgetown gardens flowering and the hotel's culinary program sweet atop the roof of The Fairmont Washington, D.C. since 2009.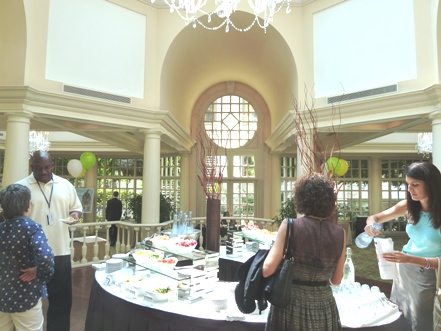 All part of the hotel's response to the nation's honeybee shortage, and a corporate-wide commitment by the Fairmont Hotels & Resorts to pioneer hotel environmental stewardship, these four gentle hives of Italian honeybees have now become ambassadors for conservation.
"It's inspirational to have this program after such devastation to the crop," says chief beekeeper and executive chef, Ian Bens. "Besides encouraging a sense of community, the bees help to pollinate local gardens three to five miles away. Our non-aggressive Italian bees are good at bringing in the honey."
Not all bees and fabulous service though. Through its Green Partnership, the hotel has incorporated a number of initiatives to reduce, reuse and recycle into the hotel's daily operating practices. And, for the third year, the hotel hosted its annual Green Fair last Friday.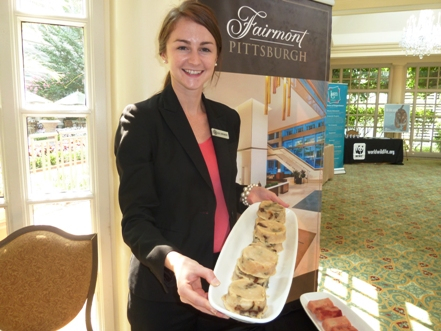 Showcasing the eco-efforts of many DC-based organizations as well as the hotel's own green program, it was also an opportunity to meet the people behind the efforts.
From Pittsburgh and the newest (gold LEED Certified) North American Fairmont, Julie Abramovic brought all-natural, fragrant handmade soaps, sourced from local beef and created by their culinary team.
"Everyone can have a voice for those who have no voice," Kerry Zobor was describing the many programs of the World Wildlife, including symbolic adoptions of plush toys, representing 80 different endangered species.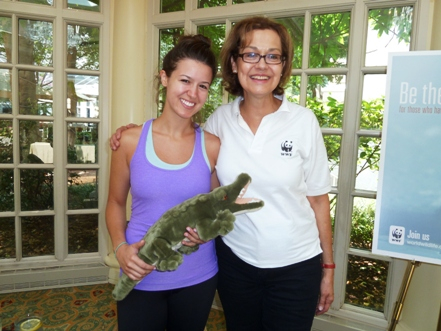 Solar panels, energy-saving lightbulbs, and biking, to name a few of the environmentally friendly programs at the fair.
What better way to cap off a visit to the city's most welcoming hotel than lunch at Juniper. "Local, seasonal, sustainable" is their motto. Add delicious.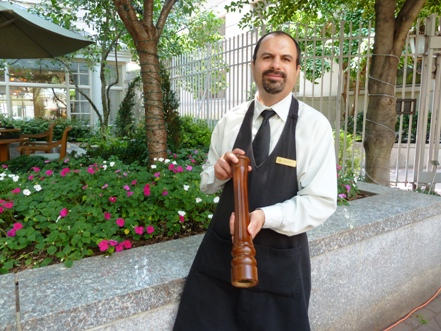 In the courtyard, served with grace and charm by Edgar, it was a Lancaster County tomato salad with sweet peppers, cucumbers, olive oil croutons and sweet basil accompanied by a glass of White Hall Cabernet Sauvignon. The Rock Creek quiche with Kennebec potatoes, Lancaster county leeks and Bijou goat cheese was followed mango sorbet in a crispy pastry shell.
The Fairmont is located at 2401 M Street.