Experience Italy as Via Umbria Reopens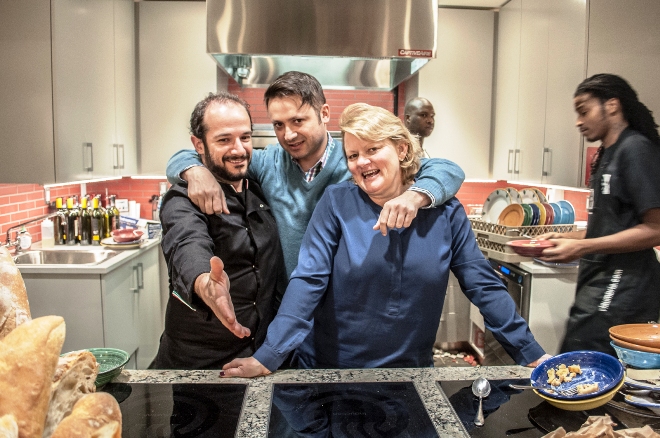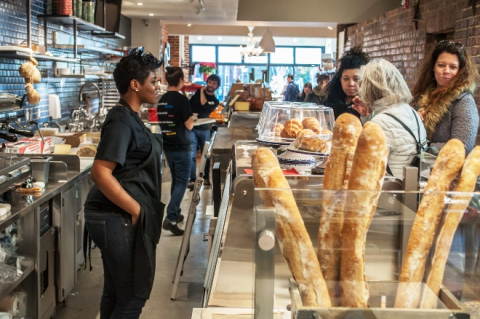 The new Via Umbria has reopened its doors and you will want to be part of this experience ... starting now.
Official reopening is in January but stop in today for a delightful and flavorful sneak peek. Remember the charming Geribi ceramics and Tessitura Pardi textiles and Pardi wine, shelves full of Italian products? Well, they're all still there.
Now that full lineup of artisanal gourmet foods, ceramics, housewares and wines, shares space with refrigerated cases full of fresh, local farm-raised meats, artisanal cheeses, freshly baked breads, local produce and café seating where you can enjoy freshly prepared Umbrian dishes.
Via Umbria opens at 7:00am​, Tuesday through Sunday​, stop in for coffee, pastries, market items and meals throughout the day and to take home.
The culmination of a two decade love affair with Italy by longtime DC residents Bill and Suzy Menard, Via Umbria is a reflection of their vision of a place where people can come and experience many facets of la dolce vita, the "sweet life" long associated with Italy. While that palpable feeling 
of well being comes from a variety of sources—the food and wine, the natural beauty, a long and rich history, leadership in art and style–owner Bill Menard believes that "at its core, people love Italy because of the connectedness of all of it. Families connected to each other across generations and time, farmers connected to their land, people connected to ancient traditions and daily rhythms of the place that they and their ancestors have called home for so much longer than we Americans can even imagine. In Italy it's easy to feel connected and at home.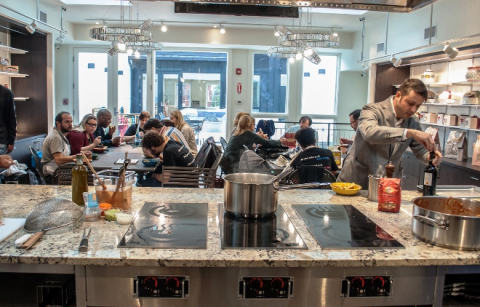 "Americans hunger for that connection and we wanted to create a place for people to belong and be fed, in the most welcoming, beautiful and delicious style we have found in the world–Italian. More than 20 years ago we started building relationships in Italy, falling in love not just with the beautiful wares, flavors and style of living, but with the people. And we wanted to create a communal experience where everyone could learn, explore and most of all experience that Italian lifestyle, right here in Georgetown."
A cornerstone of the new Via Umbria is the communal table located in the demonstration kitchen on the second floor. There you can participate in cooking classes, sit and enjoy your café breakfast, lunch or aperitivo as our chefs prepare the next meal, or join one of our evening culinary events–dinners around the communal table, events and experiences that feature wine makers, guest chefs, cooking classes and simple pasta dinners with new friends.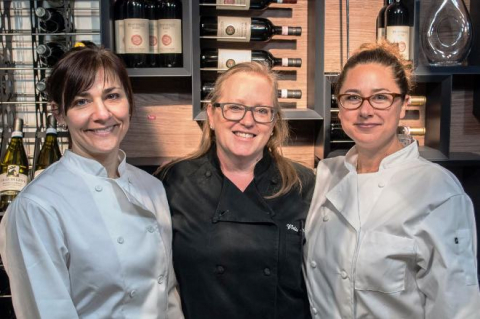 Whether you are an Italophile or just passionate about great flavors and high quality, Via Umbria introduces you to the best the world has to offer in food, wine, artisanal products and farm to table dining.
In addition to the products you've come to love and expect from Via Umbria, the new Via Umbria offers somewhere to meet, eat and relax, a place to get your hands dirty and to experience a slice of Italy in Washington, DC. "We want people to learn and experience first hand what great tastes like and how simple it can be! During our soft opening, we've offered classes on making the best crostini and how to use cheese, a hands on pie making class where students were able to take their handiwork home for Thanksgiving, a meeting of our Italian book club and a series of chef dinners around the communal table, one of them featuring a four course white truffle dinner. Throughout the day our butcher and cheesemonger are offering samples and interacting with customers while our sommelier is sharing delicious Italian wines with customers during our daily tastings. This is a place to learn and share that passion for great food," said Bill Menard.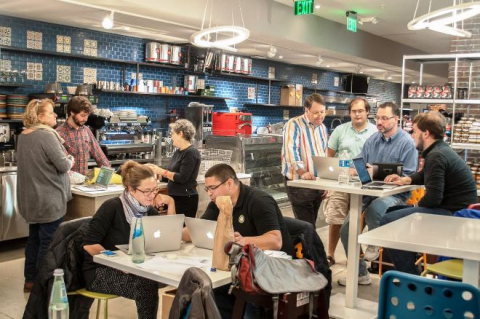 "Maybe you just want to come upstairs and ask the chef how you can make a delicious dinner using the truffle oil, stringozzi, ribeye and Sagrantino you just bought downstairs. When you create a community of foodies like we have at Via Umbria, you create a place where everyone is welcome and everyone shares," said Suzy.
Beyond the communal table, Via Umbria is also a full service fresh food market, an enoteca (wine cellar), and café offering breakfast, lunch and "spritz o'clock aperitivos.
Chef Vickie Reh brings years of experience as a food and wine expert, with a strong background in French and Italian cuisine and wines. Most recently she served as chef at Buck's Camping and Fishing in Washington, DC. Her extensive travel throughout Italy includes a recent visit with the Via Umbria owners on their semi-annual food and wine tours based out of Via Umbria's farmhouse in Umbria. A professional sommelier, Vickie manages Via Umbria's wine program, and is responsible for selecting the inventory of noteworthy Italian wines that currently number 120. As Vickie said, "We have a kick-butt Italian wine list at Via Umbria. This is a remarkable wine room, and nestled in here are some surprises and treasures, as well as gold standard wines, too. Our wine room features one-third Umbrian wines, the rest is all Italy." In addition to overseeing Via Umbria's wine program, Vickie will be chef for two of Via Umbria's nightly culinary events at the communal table.
Chef Jodie Steiner has lived and cooked in Italy, developing a sensibility and sensitivity for what makes Italian cooking so exceptional. Jodie brings her expertise to the evening dinner program, chefing two nights per week at the communal table. In addition, Jodie oversees Via Umbria's portare via (take away) dinner program, preparing different three or four course carry out meals every evening (which can be paired with Vickie's wine suggestion).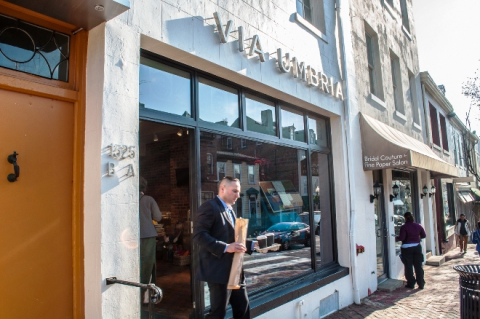 And you can taste the creative flair of Chef Rissa Miller, who lived, studied and cooked in Italy and France in Via Umbria's daily café menu that includes daily frittata and other egg and brunch items, torta al testo—specialty Umbrian sandwiches in a variety of styles, specialty salads, soups and stews, baked pastas and casseroles, and snacks and pizza altalglio for spritz o'clock aperitivo hour .

"Italy influences everything here, from the taste to the way of life," said Bill Menard. "Come and experience it. We like to think that Via Umbria feeds what you hunger for."
Via Umbria is located at 1525 Wisconsin Avenue in Georgetown.