Exorcist Steps Event to Commemorate Local Movie Landmark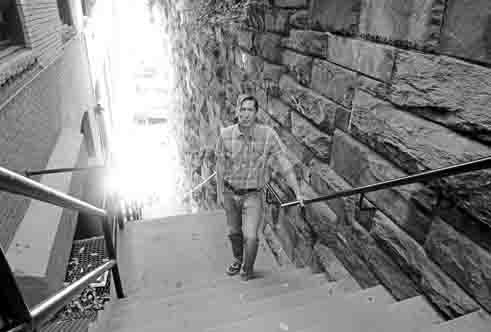 By Mark LiebermanCurrent Staff Writer
A longtime "Exorcist" enthusiast, Andrew Huff got to thinking about the movie's iconic Georgetown steps one day last June, while showering "with a head full of shampoo."
The iconic Exorcist steps — featured in the climax of William Friedkin's 1973 horror film — are already a well-known tourist attraction. But Huff, a D.C. resident and American University's director of community relations, believed the site could use more formal recognition.
On Friday evening, Huff's brainchild completes the journey from his shower to the steps at 3600 Prospect St. NW. City officials including Mayor Muriel Bowser and several D.C. Council members will unveil a plaque commemorating the famous site during a 6 p.m. ceremony at the bottom of the steps. And per a ceremonial D.C. Council resolution authored by Ward 2 member Jack Evans (Huff's former boss), Oct. 30 will be known as "Exorcist Day" in D.C. going forward.
Before the ceremony, from 4 to 6 p.m., Friedkin will be at the top of the steps signing autographs, answering questions and giving away a limited number of free Blu-rays of the film and collectible headshot photos of himself on the set. William Peter Blatty, the author of the book on which the movie is based, will join Friedkin for the second hour.
The event concludes with an invitation-only screening of "The Exorcist" at the nearby AMC Georgetown theater.
Interested residents across the city, from Tim Russert's widow Maureen Orth to Redwood Investments founder Michael Wood, donated a total of $7,000 to the event. Support from Aaron DeNu at Dupont Festival, the event's official organizer, and promotion from the Georgetown advisory neighborhood commission and other city officials, made those donations possible, Huff said.
"That's the coolest part of all this," Huff said of the citywide enthusiasm. "It really is a local D.C. event, and it's important enough to these people and these organizations to have this location commemorated that they're willing to help us."
Since his dad showed him the movie when he was 10 years old, Huff has been fascinated with every aspect of "The Exorcist." He estimates he's seen it 50 times since.
"It created an impression in me that never left," Huff said. "The fact that I was so interested and terrified at the same time, and so curious, made the movie stay with me."
Often cited among the most beloved horror movies of all time, the horror thriller follows a young woman (Ellen Burstyn) struggling to rid her daughter of a demonic possession with the help of two unconventional priests. During the movie's bloody climax, the priest Father Karras (Jason Miller) tumbles down the Georgetown steps to his death.
While growing up in Front Royal, Va., Huff and his friends made frequent day trips to D.C., often making a point to stop by the steps, "just kind of standing there and messing around." As an adult he rarely takes his visiting friends to the monuments, but the steps are always a must-see.
With the idea for a plaque in mind, Huff sought support and funding from D.C. government agencies. The Office of Motion Picture and Television Development was eager to assist, according to director of communications Pharoh Martin.
"We like to really recognize important film locations in the District," Martin said. "There's nothing that's more significant than the Exorcist steps in Georgetown, we feel. It was just a long time coming."
Martin's office helped secure funding, permits and promotion for the event. And some of what Huff expected to be the most difficult tasks proved to be significantly easier than he expected.
He tweeted at director Friedkin, who lives in Beverly Hills, Calif., without ever having spoken to him before, and Friedkin responded favorably within a day. From there, getting author Blatty on board was just a matter of Friedkin reconnecting with the writer, an alumnus of Georgetown University who lives in Bethesda.
"Having the two of them together in the same place is pretty special," Huff said. "It's going to be really neat to see them together at this location where they spent so much time and poured out so much of their souls."
The event is also significant for Robert and Barbara O'Malley, who have lived in the house next door to the steps for 11 years. They knew about their house's Hollywood connection when they bought it, but it didn't influence their decision.
"It sort of amuses me," Robert O'Malley said in an interview. "It's sort of a perverse status, one might say, to have the most visited house by tourists."
Huff is urging eventgoers to reach the steps via public transportation on Friday. If it rains, the ceremony will move from the bottom of the steps to the top, where there's an outdoor pavilion.
In addition to Friedkin, Blatty and Bowser, guests of honor at the ceremony include Georgetown University President John J. DeGioia and D.C. Council members Evans, Vincent Orange and Brandon Todd, Huff said. More than 1,200 people have reported that they're going to the event on its Facebook page (tinyurl.com/nduufrv), and Huff is estimating a crowd of "hundreds, easily."
Martin said everyone involved is surprised but pleased by the volume of interest.
"We thought it was something neat that needed to be recognized, but we didn't have any idea of the magnitude of interest in commemorating these steps," Martin said. "It's going to be a very fun experience."
This article appears in the Oct. 28 issue of The Georgetown Current newspaper.