Exclusive POSTES Preview with French Designer Claudine Sorel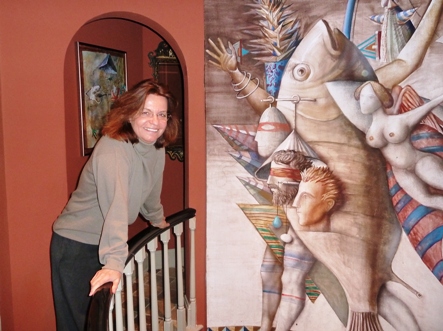 Claudine Sorel-Bloomfield welcomed The Georgetown Dish into the stunning Northwest duplex flat (complete with bird cage elevator) she shares with husband, Mark Bloomfield and Antoine Bloomfield, her French cocker. You may recall the insightful column on economics Antoine wrote last year for The Dish.
Featured in James M. Goode's Best Addresses, this 1920's apartment is home to a a dazzling mix of centuries and continents. Twentieth century classics (like the pair of leather Corbusier Barcelona chairs shown below) and modernist paintings blend seamlessly with French antiques, Sorel-designed bronze miniatures, lamps, pleated shades and furniture. And, bien sur, Antoine's extensive collection of plushy friends.
The occasion for the visit?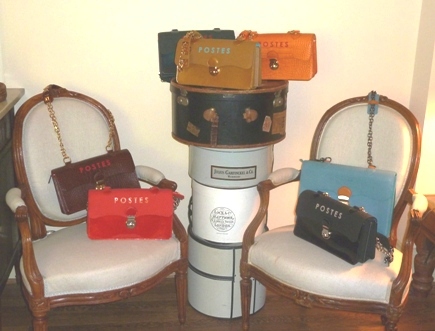 Claudine, along with business partner Beatrice Amblard (who has worked for Hermes) is about to launch POSTES, a bespoke line of designer handbags, and Dish readers are getting an exclusive first peek.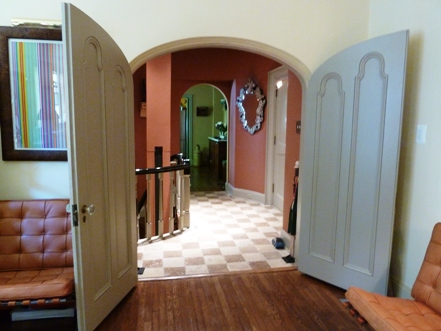 "Retaining the DNA of the classic French postman's bag, POSTES has revived everything," explains Claudine. These limited edition, handmade (in the U.S.A.) bags come in luscious shades of aqua, anise, and avocado ... to name a few. Made with exotic skins, matte and embossed leather, each one is lined with plonge (buttery soft lambskin). All combinations are available, and each bag is unique. The collection, changing seasonally, will be introduced in three sizes including a pochette (envelope clutch). Each one carries the POSTES signature.
Stay tuned for ordering details. POSTES launches April 26, 2012.